A Beginner's Guide to Motorcycle Track Days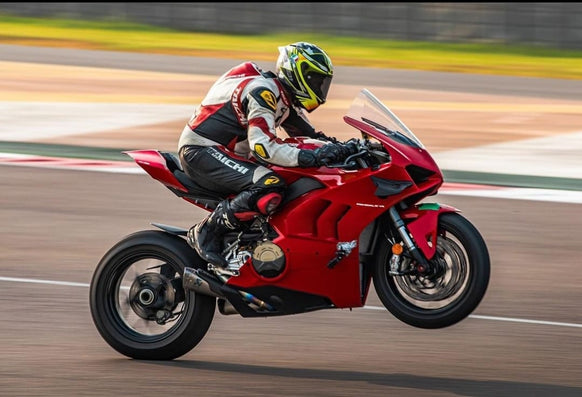 Track Days are fun, but there is no getting around the fact that your first track day or first few track days can be a little intimidating. From picking the right gear, to making sure your motorcycle is ready to be on the track – it can all get a little overwhelming the first time. So, here's a few things you should keep in mind if you are going to your first track day anytime soon.
Finding the right gear
While the actual gear requirements will differ from track to track, good quality gear will always pass the test at most of the tracks in the world. For India too, the requirements aren't too stringent, and if you are using any on the major helmet brands like Bell and Airoh, you should be good to use them on track. The main issue with any helmet is the use of the right locking mechanism for the strap. Some helmets have a quick release mechanism, and that is not allowed on track. Instead, make sure your helmet has a D-ring locking mechanism.
When you are visiting the track for the first time, make sure you have a leather racing suit. While most tracks have vendors on the spot that might loan you one for a small sum of money (this isn't true for all days and all tracks), it's always better if you have your own riding suit. This way, you can pick a suit that works for you, instead of a generic suit out of a rental line-up. You will also need sliders, at least for your knee, and if you can lean far enough, then for your elbows as well. Rev'it! makes a couple of good leather race suits, and even sells an under-suit liner to wear underneath them!
As far as your gloves and boots go, you can use your regular riding gloves and boots, but it's advisable that you get something with more protection for the track. You need more abrasion protection on the track instead of impact protection (although that is also required), so focus on getting gear that will last a while when sliding on tarmac.
Getting the motorcycle in shape
All motorcycles must undergo an inspection before they can be let out on track. This is to make sure that a motorcycle is fit to run on track and will not cause problems for its rider or other riders on track. Before you get to the track, make sure your engine oil is new (it's advisable to change oil before and after a track day if you are going to be doing some heavy riding on the track). You should also make sure that your braking fluid is new and filled to the right level. Although, do this a couple of days before the track day as brakes that have just been bled can sometimes take a day or two to return to their optimal stopping power.
Motorcycles can also be stopped from going onto track if they are leaking fluids. So, if you have a minor coolant leakage or your shocks are leaking fluid – then you should fix your motorcycle before heading to the track. Lastly, make sure your tyres have tread left to take on the track, as rubber burns out quickly when you are belting your motorcycle around a track. You should also look at track insurance for your motorcycle if you want damages at the track to be covered.
What's more?
While we have covered the gear and motorcycle bit of things, the most important bit is left – you. The human atop the motorcycle wearing all the gear should be healthy and fit to be able to ride on track. Riding on track is a strenuous activity and a 20 minute session on the motorcycle will leave you feeling like you have done cardio for an hour. Make sure you are properly hydrated when you are on track. Also, listen to instructors. They usually know what rookie riders tend to do wrong and have a good view of you on the track. Listening to them will only make you faster!