Five Things To Keep In Mind For First-timers At The Track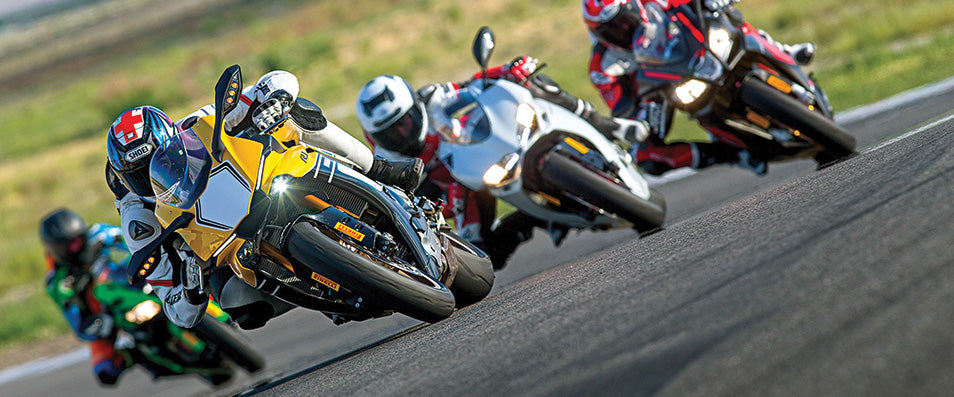 Here's how you can be prepared for that upcoming first visit to the track.
If you are heading out to a race track for the first time, chances are you are looking up what's expected of you. Race tracks all over the world have different criteria to let riders on to the track but the general guidelines are the same. Here are some things you should keep in mind if your first track day experience is coming up.
Being Track-worthy
This applies for you, and your motorcycle as well. Make sure you have the proper riding gear picked out for the track. Get in touch with track officials or the organisers hosting the event to make sure what kind of gear is mandatory. Some race tracks will allow you to ride in some of your street riding gear whereas others are more strict. If you are looking to get a one-piece leather suit for the track, the Oxford RP-2 is reasonably priced and offers excellent protection. You can pair it with the Rev't! Overall Excellerator Race Undersuit for an even more comfortable experience.
Make sure your motorcycle is in a good condition as well. Make sure there are no fluid's leaking, the engine has been serviced well and you don't have any niggles such as a loose chain. Some race tracks require you to tape up all the lights and reflectors on your motorcycle, and even remove the side-mirrors. This is done so there are no small sharp objects on the track in the case of a crash.
Inspection
Your gear and motorcycle will be inspected at the track to make sure you are both in a condition to be out on the track. Different tracks will have different rules regarding this as well but, generally, a race official will carry out these duties.
Theory classes
If you have signed up for a one-day or two-day course at the track, there is a good chance that you will have to sit through theory classes. Important track information as to what the flags mean, the rules of overtaking and how to enter the pit are all explained in such classes. While these might seem boring, it is quite important to take in all that is taught here to stay safe on the track. Apart from the safety lessons, you might also be coached on how to tackle different parts of the circuit, which ones are the fast sections and which are the technical bits.
Meeting faster riders
You will always meet faster riders at a track, especially if you are headed to one for the first time. It is important to not consider these people as benchmarks. You should instead talk to these people or your coaches, to help you better your riding technique and going faster will then be an automatic by-product of the process.
Noise
Race tracks are noisy. That's what you get when race-tuned machines with exhausts that offer very little in the way of sound dampening are let loose on a circuit. Then there are the pits where mechanics are busy working on their machines. All of this noise can be a little chaotic and thus it is advisable that you carry ear plugs when visiting a race track.
Bonus
People at the race track are generally friendly to first-timers. Don't be afraid to seek help, or ask a question that you might think is silly. Everyone at the track has been in your shoes at some point of time or the other.