How To Clean Your Motorcycle Gear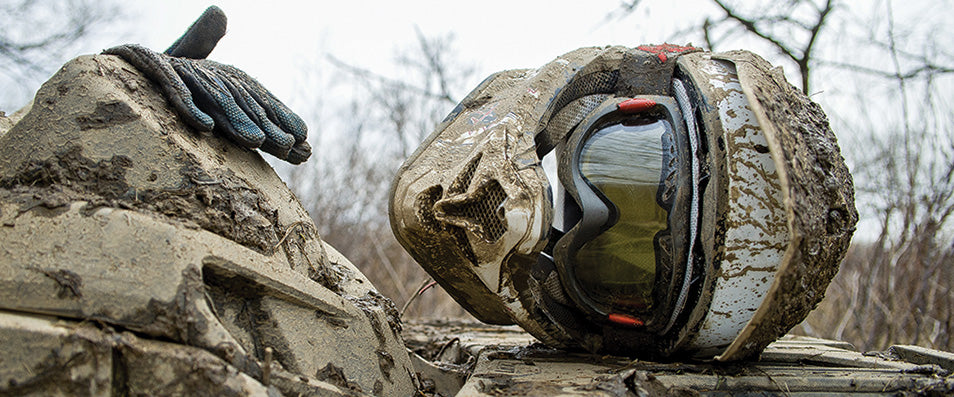 Ever wondered how to get rid of all that muck on your riding gear. Read on to find out.
Just like you wash your regular clothes, it's important to give your riding gear an occasional cleanup as well. And it's not only the occasional wash that you need to be aware about. There are steps that you need to follow after every ride to keep your riding gear clean and in pristine condition. So, here's how you can go about it.
Helmet
After every ride, wide down the surface of the helmet with a damp cloth. If you do this after every ride, you won't need to use any kind of chemicals to remove bugs or dust that have solidified on your helmet over time. And using any kind of chemical on helmets is a big no-no. You should also air out your helmet after every ride, before storing it. Occasionally, you should also remove the liner from inside and give it a hand wash. Don't plonk it in the washing machine as it might get damaged. Wash it, rinse it, and dry it in the shade.
Textile Riding Jacket and Pants
Just like your helmet, air out your riding jacket and pants before storing them. All the sweat needs to be dried out so that your riding gear doesn't smell, the next time you use it. Depending on your usage, you should also wash your riding gear. If you ride everyday in dusty and sweaty conditions, we suggest you wash your gear once a fortnight.
To do so, remove all the protectors and liners. The protectors don't need to be washed whereas the liners can be washed separately. Just like your helmet liner, wash your jacket and riding pants by hand to avoid damaging them. Rinse it and dry it in shade.
Gloves
If you use textile gloves, just wash them like all your other riding gear. However, most people use leather gloves and if you do too, we suggest a different routine. Air them out like your other gear but don't wash them. Instead, there are separate cleaning agents for leather items, so use those. Use a leather conditioner too as it will keep the leather of the gloves soft.
This is not applicable only for gloves but all your other leather riding gear as well. So if you use a leather jacket, don't go dipping it in a bucket of water.
Boots
Riding boots are easy to clean but quite difficult to dry. Scrub them using a mild brush and make sure when you leave them out to dry, you have opened the top surface as much as possible. Blow air through it using a hair dryer. You don't need to use the hot air function for this. Just blowing regular air will serve the purpose of circulating air inside.
Storage
Once all your gear is clean and dry, you'll want to store it. And we suggest that you do so in a dry place. If you leave it in the open, it will lose its integrity faster.
Look for a ventilated place to store your gear, if you use it everyday. However, if you are storing it for a long period, look for an air tight place.
Bell Helmets, best motorcycle riding gear, Best Riding Glasses, best riding gloves, bike accessories, bike riding gears, Bike Riding Gloves, helmet, Helmet Cleaning, helmet liner, Helmet Maintenance Tips, helmets, high note performance, Motorcycle Accessories, Motorcycle Helmets, Motorcycle Jackets, Motorcycle Jackets in India, motorcycle riding gear, Motorcycle Riding Gloves, Motorcycle Riding jackets, Oxford riding pants, riding gears, Riding Gloves, riding helmets