5 Must-Have's For Riding In The Snow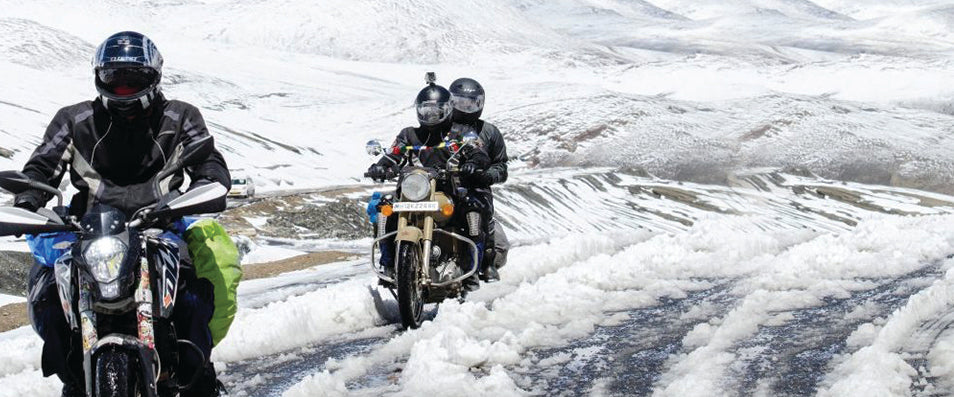 It's not just your habits that will make it easier to ride in the snow.
It's very important to have a good technique when riding in snow as we discussed last time out. However, there is one more thing you need to do to be able to enjoy that ride in the snow to the fullest. Be prepared. Let's take a look at the things you need to be able to do so.
Heated Grips
Staying warm is the name of the game when you are riding in snow or in winters. All you riding gear and insulation layers will keep you warm but your hands need that extra bit, because they help you control the motorcycle. Heated grips allow you to keep your hands warm without having to take them off the handlebars. Oxford's Hot Grips are a great example of heated grips that are available for a majority of motorcycles and can be fitted on with a quick trip to the mechanic's shop. You can even get Oxford's Insulever lever sleeves from which cover your brake and clutch lever. It keeps them insulated from the cold and makes it easy to operate them in snowy conditions.
Waterproof storage
Snow is made up of water and when it is snowing, there is a lot of water around. In such a situation, it's a good idea to ensure that your luggage is waterproof - be it a tank bag or a tail bag. There are few things that are worse than reaching your destination and finding the contents of your bag to be drenched. Oxford makes some great motorcycle luggage such as the Aqua T-30 Roll Bag and the M15R Magnetic Tank Bag that are waterproof and will keep their contents dry.
Anti-fogging visor
When the temperature is low, there is bound to be vapour coming out of your mouth while breathing. You'll be okay on the move if your helmet has enough ventilation but as soon as you come to a halt or slow down, your visor will start to fog up, affecting what you can see. So make sure your helmet has a visor that has an anti-fogging coating on it.
Winter riding gear
There are brands that make riding gear especially for snow, because it's not only important to stay protected from a crash but also from the intense cold. Rev'it! Chevak GT-X gloves look really minimalistic but are waterproof and even have a separate thermal insulation layer. Rev'it! Sand 3 riding jacket and Sand 3 riding pants, both of which again come with a waterproofing and a thermal liner. The Tornado 2 jacket from Rev'it! is another great winter riding jacket which comes with a 2-in-1 liner, that is waterproof and also provides insulation from the cold.
Spiked tyres
These you'll need when you are actively riding on snow or ice for a long duration. Spiked tyres help you find more traction in the snow by digging into it. These are however not ideal for riding on tarmac and should only be used when riding on snow for long distances.
Anti-fogging visor, Aqua T-30 Roll Bag, Heated Grips, helmet, M15R Magnetic Tank Bag, Motorcycle Helmets, motorcycle luggage, Oxford's Hot Grips, Oxford's Insulever lever sleeves, Rev'it! Chevak GT-X gloves, Rev'it! Sand 3 riding jacket, Riding In The Snow, Sand 3 riding pants, Spiked tyres, Tornado 2 jacket from Rev'it!, Waterproof storage, Winter riding gear