Seven Tips for Returning Riders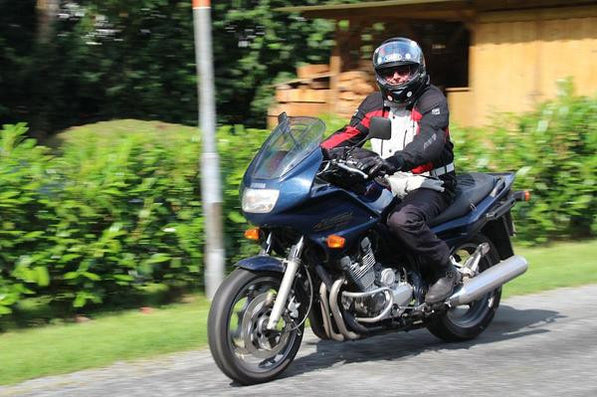 A fully geared Motorcycle Rider
A returning rider is a person who was a motorcyclist in their younger age and is returning to the hobby after a long hiatus, referred to as the Born Again Biker in some countries. The focus of this article is to provide some practical tips to help make this transition easy and safe for such bikers.
From the Indian perspective, this article will be of help to the following categories of bikers
Returning Bikers: typically people who have owned a bike in the past, but have not been riding for a decade or so, and are probably in their middle age now
Occasional Bikers: Bikers who typically ride one season a year, often during the winter months.
Late Entrants: Bikers who are learning to pick up the hobby for the first time, typically in their 30s, 40s or even 50s.
So without further ado, here are some pointers for the three types:
1) Give due recognition to the core issue at hand
So what's all the fuss about? The main issue here is that if you belong to any of the three categories listed above, you are at a much greater risk of being involved in an accident than a young motorcyclist. Once there is due recognition of this fact, half the battle is won!
2) Focus on what's changed: This aspect is once again nicely covered by the holy trinity of motorcycling:
    a) The Terrain: There is way more congestion on our roads today than even just a decade back. Improvements in road design, advances in automobile engineering and quality of construction of modern expressways have another negative side  - the average, and more importantly, the relative speeds have gone up considerably on our roads today. 
We still have pedestrians, rickshaws, tractors & bullock carts on city roads as two decades ago, but now we also have modern turbo charged performance cars and much better performing motorcycles on the same roads. And therefore the relative speed gap has widened dangerously.
    b) The Machine: Although India is still predominantly a 100cc low powered, fuel economy centric two wheeler market, but the choices available to a motorcycle enthusiast have sky rocketed to the heaviest cruisers, the tallest ADV bikes and the fastest super sports bikes in a very short span of time.  Even some of the bikes that are considered beginners bikes are way more powerful than their counterparts of just a decade back. The KTM Duke is a perfect example of one such bike. It can easily reach  speeds of 120kmph and beyond.
The second aspect here is related to the technology and changes in riding techniques. Most modern bikes have very powerful brakes and it can be a handful for a returning biker to get to use them in an appropriate manner.  The tucked riding stance and smoothness of modern engines can lull you into a false sense of pace and before you know it, the speedometer would've touched 140kmph. 
    c) The Rider:  This one is of particular significance if you are over the age of 40 and are returning to biking after a couple of decades.  The truth here is that your reflexes, the flexibility of your body, your vision and your hearing is no longer the same as it was when you were twenty something, and its going to be a downward decline from here on.
One aspect which would have significantly improved but can be counterproductive, is your bank balance, which will surely be at a much higher strata than in your twenty's.  Here's where our next tip will come in real handy for you.  
The Delhi-Agra Yamuna Expressway: Signs of Progress
3)Choose a bike which best matches your needs, not your ego  
One aspect that has changed over the years other than the cubic capacity & performance is the purpose centric nature of bikes. You will need to figure out which type of bike suits your lifestyle best – are you still a MotoGP fan and secretly hope to beat the Rossi's and Lorenzo's of current times? Or are you a weekend warrior who would just like to take out the bike for a leisurely spin around the city, probably with your better half as the pillion? Or do you see yourself as a wander luster and cannot wait to head to Leh-Ladakh on your new steed? Or maybe for you motorcycling begins where the road ends? 
There is a purpose built bike available for every such use. The most important thing to consider here is your ability to handle a high capacity bike in such a category. The tallest, heaviest ADV bike might be able to take you on a world tour, but you need to be comfortable on the bike first.
The best advice here is to start at a modest level. Most modern 600cc bikes have enough power to meet almost every motorcycling trip in our country.  Some single cylinder bikes such as the KTM can be a bit wild to control, whereas the Japanese inline four typically deliver their maximum at the higher rev range, constantly egging you to cross the legal speed limits. Typically a twin cylinder is the best compromise for a returning biker for these reasons. It offers reasonable torque and a smooth power delivery from low medium speeds, all the way to expressway speeds.
Remember that it is always easier to learn juggling by starting with two or three balls, rather than ten balls.  The same logic applies here, give yourself time, practice and get used to the machine, the terrain and even your rediscovered abilities with a simpler machine. There will always be time to upgrade to a bigger, more complex machine in the time to come.
The KTM Duke
KTm Enduro 690
Harley Davidson Fat Bob Cruiser
BMW R1200GS ADV Bike
4) What to look for in a test ride?  
The three basic tests to fall back on, during a test ride are the ones which are typically taught in a riding school – make a figure of eight, take a tight u-turn, and  try out precision/emergency braking.  If you are not comfortable doing any of these, chances are that you will either hamper your riding style during the course of ownership or your bike will end up on olx.com in no time. 
5) Take a refresher course
This is of course easier said than done in our country, especially for the performance bike category, but still there are options available in our country ranging from track-oriented courses to off-road riding skills training.  One big advantage compared to two decades back is the Internet.  iTunes University has a very good selection of riding courses with content from Motorcycle Safety Foundation, USA and it is free! In addition there is a plethora of books and DVDs available on the topic on online marketplaces such as Flipkart and Amazon.
Best way to learn is to give yourself as much practice time on your bike as possible on a private road or in a large car park. If you are lucky enough to have a peer with good riding skills, even that can help.
6) Learn to unlearn
A great scientist recently said, "The future will belong to those who can learn to unlearn several times over the course of their lifetimes" The importance of this statement cannot be emphasized any more for returning bikers.  Please try and unlearn all  the motorcycling myths which you may have gathered growing up in the 70's, 80's or even 90's in India.
"Do not use front brakes or your bike will skid and fall"
"Reducing the tyre pressure by a few PSI will result in better grip"
"Do not switch on your headlights during the day, it wastes petrol"
"Signal by hand if you want to turn left or right"
Statements like these are best left where they belong - in the past. There have been significant advances in motorcycle design as well as in safe riding techniques. Read up on them and try to adopt them as best as you can into your riding style.
7) Gear up and Ride
Just like riding techniques and motorcycle design, there have been significant advances in riding gear technology to make riding a lot safer experience for you than ever before. Make use of this and learn to wear appropriate riding gear on every ride.
Refer to our article on  7 Must Have accessories for new motorcyclists.
Ride safe and ATGATT!