Tips on Starting off for Motorcycle Beginners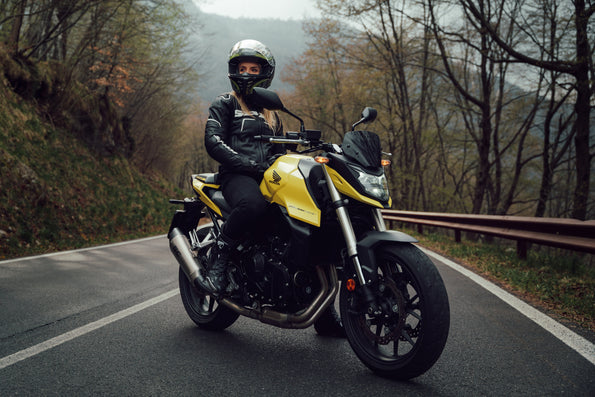 Riding a motorcycle is a liberating feeling and the lure of feeling the wind on your face can be a tempting one, but getting started off on a motorcycle can be difficult experience for some people and down right frightening for some. To make things easier for you, we have listed down some points you should keep in mind when beginning your motorcycle journey.
Choose the right motorcycle
You might have the means to buy a big, expensive motorcycle to get started on your riding journey, but it is certainly not the wisest choice. Big motorcycles are often heavy, and require a delicate hand to operate and for any rider, it takes at the very least a few years before they can safely operate powerful motorcycle. If you are simply starting off, we recommend that you stick under the 250cc mark. Motorcycles in this bracket are light, easy to maintain, and offer the right amount of power to get you used to motorcycling. These motorcycles are often also the best teachers, and even the most talented riders often practice on smaller displacement motorcycles to hone their skills further.
Safeguard yourself against crashes
As a newbie on a motorcycle, there are 99 percent chances that you will fall. Falling can be a horrible experience on a motorcycle, but if you have the right riding gear, you will be able to get through most learning-crashes without hurting yourself. Instead of spending an exorbitant amount of money buying a very expensive helmet, spread your riding gear budget and get protection for all parts of your body. In the beginning, you won't be riding at high speeds so it is more important to cover all parts of your body.
Find a safe space to practice
You will need an open field to start your riding journey. In an empty space, you can get used to how a motorcycle reacts to your different inputs, and over a few weeks, you will be able to string these inputs together to be able to coherently ride a motorcycle. An open space is also a great place to practice drills, irrespective of your skill level. Even when you get up to speed and start riding on the road, we suggest you keep going back to the open field and working on your skills at least twice a week to become improve your riding technique.
Resist the temptation to speed
This will be one of the hardest tips to follow when you get up to speed on how to ride a motorcycle because the allure of the opening the throttle to feel the wind go by fast can almost be too intoxicating to resist at times, but the important thing to remember here is that speed is a by product of your skill and not something you should be targeting. As you ride more and more, you mind will become sharper and quicker at processing your surroundings, which will allow to use more of your brain power to go faster. This is a process that happens automatically, and not something you necessarily need work towards.
Also Read: How to go through the Gears on a Motorcycle
Join a Riding School
After spending money on a motorcycle and riding gear, if you still have the adequate finances, we suggest you go to a riding school. These can be expensive, but riding schools are great for working on basic techniques. Coaches help build up fundamental riding skills, that once ingrained properly, can be transferred to other motorcycles as well. A riding school will take the guess work out of riding a motorcycle, and will be a massive boost to your riding technique.