Top Picks for Winter Riding Gloves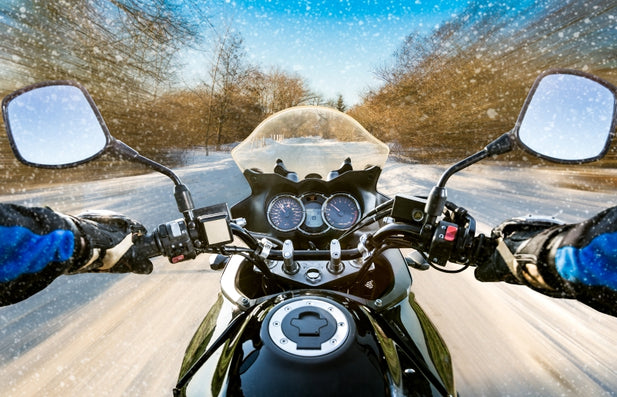 While the rest of the world stows away their bikes during the winter months, Indian riders continue to rack up kilometers even through the cold! Layering up is key during winter rides, and it's equally important to cover up your hands, as they are the first to be hit by the cold wind chill.
Here are Team HNP's top picks for winter gloves to protect your hands and keep them warm during those cold, winter rides- 
1. Rev'it! Crater Wind-stopper Gloves -
Rev'it! Crater Wind-stopper gloves are true to their name, as they block the sting of an icy chill thanks to Gore's wind-stopper membrane. The perfect 3-season winter riding companion, their outer shell is a combination of goatskin leather, polyurethane and polyamide to provide a strong and durable protective layer along with a hard shell knuckle and temperfoam padding at the palm.
The polar fleece liner combined with a tri-fleece liner ensures that you retain body heat while riding. The multiple layers not only block airflow but also are water-resistant, providing protection from various elements during a cold winter ride. Subtle features like visor wiper and reflective lamination at the backhand make them ideal winter gloves for city riding. 
2. Rev'it! Galaxy H2O Gloves -
The Rev'it! Galaxy H2O Gloves are hydratex, waterproof and breathable cold-weather gloves just perfect for the winters. They are amongst the very few full gauntlets that fit cold weather conditions. The Thinsulate G insulation layer retains body heat, keeping your hands toasty while a Hydratex Z-liner provides an impervious barrier to the elements.
The PWR|shell twill stretch shell is combined with a drum dyed goatskin palm, seesoft knuckle protection and temperfoam padding for comfort and protection. These sporty looking gloves are perfect for touring and a great buy for adventure riders.
3. Rev'it! Sirius H2O Gloves -
One of the best 3-season gloves available in the market, the Rev'it! Sirius H20 are cold-weather gloves without being bulky. The super warm yet thin Thinsulate G and C insulation retains body heat and keeps the cold out.
Drum dyed goatskin palms are mated to a PWR|shell twill stretch shell and backed with a Hydratex waterproof liner, TPU covered Seesoft knuckle protection and temperfoam in high impact areas to provide supreme protection. Adjustment straps at the wrist, adjustment tab at cuffs make these gloves are extremely comfortable. The Sirius H2O is virtually weather resistant and an excellent buy.
4. Rev'it! Chevak GT-X Gloves – 
Don't let the minimal look and design fool you, as the Rev'it! Chevak GT-X gloves perform like full-featured winter gloves. The Gore-Tex membrane provides excellent waterproofing without compromising on breathability, and the thermolite insulation keeps the hands toasty while riding.
A visco-elastic knuckle hidden underneath robust PWR|shell 500d stretch textile protects your hands without disturbing the clean lines. A single motion closure system tightens the wrist and gauntlet at the same time, making it quick and easy to secure the gloves.
5. Rev'it! Helium undergloves – 
A nice pair of under-gloves can convert a 2-weather glove to an all-season glove by increasing the comfort and warmth levels in any existing glove, and that's exactly what the Rev'it! Helium under gloves do. The closed-knit nylon fabric is highly breathable and moisture wicking, enhancing the overall warmth.
The Helium is extremely lightweight, stretchable and snug, making them easy to wear under any gloves. And they work best with waterproof gloves. The silicon grip print on the thumb and index finger makes them phone-friendly. 
6. Rev'it! Grizzly Wind-stopping undergloves – 
The Rev'it! Grizzly undergloves are GORE® Windstopper® Softshell under gloves and designed to be worn under any type of unlined gloves. They provide excellent additional warmth and Coolmax moisture-management functionality. They are also much comfortable for the rider, thanks to seams stitched on the outside, for a better feel inside the fingers. 
These undergloves are water-resistant (not waterproof) and designed primarily to stop the chilly winds from hitting the knuckles and hands while riding. The comfort and the protection promised make them one of the best undergloves available in the market.