The Best Motorcycle Riding Boots in India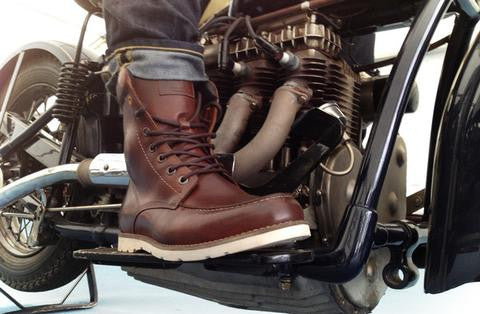 If you love riding a motorcycle and need comfortable, sophisticated and functional gear, then check out these riding boots, especially designed for the motorcycle rider!
Famous international motorcycle gear brands are now in India. So, if you love the experience of riding a bike, then these brands are here to cater to your needs. Check out some of the best motorcycle riding boots that different international brands have to offer!
Rev'It! Mohawk Boots
This is one of those products that you can instantly fall in love with. The Mohawk riding shoes from the leading brand, Rev'It have been designed to provide an equal combination of high fashion and pure performance. These functional boots have mesh inner lining which ensures greater breathability, while the sole is comfortable and made using rubber. The leather used on these boots is water repellent and therefore, it is ready to take over anything and everything. The leather ages beautifully, so even after years of usage, this product won't lose its look!
Rev'It! Rodeo Boots
This is another super cool option from the international brand, Rev'It! With a distinct military touch, this pair of stylish boots is all about performance. Their rugged built makes these so stunningly detailed whereas the features makes Rev'it Rodeo boots more comfortable. For instance, they come with water repellent leather, with toe caps and reinforced heels which make these apt for motorcycle riders. The leather shoes have polyester mesh for comfort along with rubber sole to ensure ultra-durability. This is one of those motorcycles riding boots that you would ultimately love to use.
River Road Square Toe Zip Harness
For a man or woman who loves to ride a motorcycle, this is an accessory that shouldn't be ignored. With a small heel and such stunning detailing, this boot harness is going to be a staple in every motorcycle rider's wardrobe. The rich, full grained leather upper is oiled well and the side zippers ensure that it can be easily worn or taken off. The tempered steel shank offers outstanding level of support, whereas the firmly stitched welt provides remarkable durability. This product can be re-soled as well and comes with warranty from the company itself.
TCX Custom GT-X Boots
These custom GT-X Boots are a must have! If you are looking for something that's sleek, stylish and simply functional, then these are the boots for you. Featuring leather construction with full-grain, these boots offer high wear resistant sole so that you don't have to buy motorcycle boots over and over again. The over-all built is crisp and has Gore-Tex lining with CE Certified design. The comfort fit system gives this product an edge over the others. It will always keep you dry even in the harshest of the weather. That's what makes this product a must have item for motorcycle riders.
So, which one of these models are you going to buy?
Get the best, international motorcycle jackets and gears brands in India with High Note Performance. For more information, visit www.highnoteperformance.com.