Hydrations bag: Best way to stay hydrated when riding on a hot summer day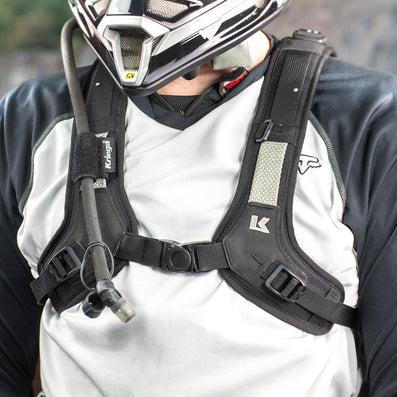 Staying hydrated is the key if you want to enjoy your ride. This is especially true in the summer when the high temperatures on the outside plus the physical exertion of riding a motorcycle put your body through the wringer. A lot of riders often do not hydrate properly on a hot summer day because that means stopping more often than they want. An easy solution to this problem is a hydration bag.
A hydration bag can be slipped into your regular back pack, or you'll find that most riding gear manufacturers offer their own hydration bag, which can be accommodated in the back of their riding jacket. It's well insulated so your water doesn't turn warm quickly. There's a tube which extends from the bag, and can be directly positioned inside your helmet. Alternatively, you can hook it up on the strap of your back pack, and just pull it into your mouth whenever you feel like having a sip.
Staying hydrated is important as on hot summer days, when you sweat a lot, your body loses water at a quick rate. If this water is not replenished in time, you end up feeling fatigued more quickly than usual. Even if you hydrate yourself in the near future, you are already losing stamina that you wouldn't have, if you were properly hydrated. Now hydration bags come in many sizes and you will want to get one according to your need. However, you will face times when you have miles left to go but you have run out of water in your hydration bag. At times like these, it's better to stop before your hydration bag gets empty. That way, you are not without water at any point of time.
You should also choose to ride at the right time if you don't want to fall victim to dehydration. Riding in the peak sun will mean you lose water very quickly. Instead, plan your route in such a way that the hottest part of the day is your biggest riding break. This is generally going to be between 12 noon and 2PM. Resting at this time will not only get you your energy back, but you will avoid draining a lot of it in the first place.
Lastly, you should regularly clean your hydration bag. The last thing you want on a road trip is to fall sick because of some disease festering in your hydration bag. How often you will you need to wash your hydration bag depends on the climate. If it's humid, you are better off washing it more often compared to dry weather.