Tips and Tricks for Safe Monsoon Riding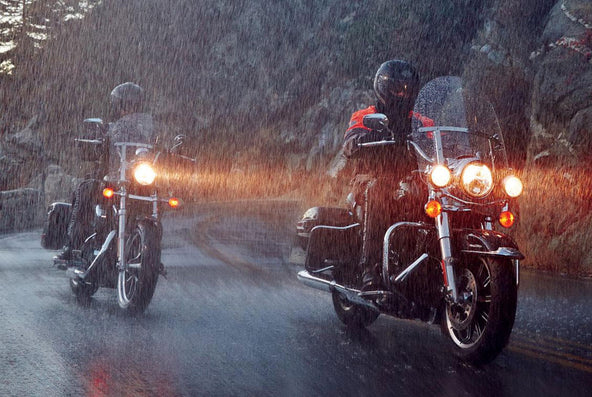 The rains bring much-needed respite from the sweltering heat and a rider cannot help but feel a sense of relief as the temperatures go down and the highways get more bearable. Dust settles down and traffic reduces as people seek shelter from the downpour. As city outskirts go green, the curiosity to witness nature at its prime is something that captivates a rider. The urge to ride into the rains can be really strong especially along with the prospect of steaming chai and hot pakodas at the end of every ride! The rains promise serenity and tranquility like no other season, but the monsoon season can also be one of the riskiest times to be riding a two-wheeler. As the roads get wet and slippery, it gets difficult for tyres to maintain grip and braking too. Riding in the rains requires a rider to be on constant vigil, as the weather needs you to remain cautious at all times. Here are a few tips and tricks from team HNP to help you enjoy riding in the monsoons-

1. Waterproof Riding Gear:
Waterproof riding gear is the most basic necessity during the monsoons, keeping the rider dry while also ensuring maximum protection. Since the probability of skidding increases during monsoons, protective gear is an absolute must. One option is to wear riding gear with waterproof liners, and the other option is to wear a water-resistant covering over your usual riding gear. For this the Revit! Nitric 2 H2O Rain Jacket and Revit! Sphinx H2O Rain Pants are amongst the best options
available in the market today.

2. Gloves: Though a good pair of gloves is important in all weather conditions, they are an absolute necessity during the rains. Water on the palms, wrinkly fingers and wet grips can make it extremely difficult to manoeuvre the bike. A good pair of gloves ensures maximum grip over your handlebar. The gloves also provide protection from water droplets that pierce the front of the hand like needles while riding in the rains.

3. Ventilated Helmets:
During the rains, breathing into the helmet may cause mist. This can be avoided by ventilating the helmet efficiently. Most good helmets have ventilation vents which not only keep the temperature inside the helmet low, but also help prevent mist formation - which can blur the rider's vision and cause glaring on the visor, literally blinding the rider to oncoming traffic. Invest in a good helmet that prevents condensed air from settling on the visor providing all-round protection in the monsoons. Bell Qualifier DLX and Bell Star series helmets are amongst the most ventilated helmets available in India.

4. Waterproof luggage:
Riding in gentle rains equates to standing in a storm, so never underestimate a downpour by just standing under it. In such conditions, it's important to protect not just yourself but also your belongings like camera, lenses, clothes, munchies etc. This is where waterproof luggage is an absolute must-have. The Oxford Aqua T-30/T-50 roll bag is one such must-have. It has a wipe-clean waterproof construction with water-resistant zippers and roll top closure. Another product really good for the monsoons is the Oxford Aqua B-25 Backpack featuring a roll top opening and waterproof tarpaulin construction, water-resistant zippers and reflective detailing for
enhanced visibility during a downpour.

5. Hazard lights: While most four-wheelers come with in-built hazard lights, a large number of motorcycles don't have factory-built hazard lights. It is, however, a wise decision to install these as they increase the chances of your vehicle being visible in extremely unclear conditions, such as rains and storms. All it takes is lights which are easily available online, fixing up the switch and wire, which is fairly simple and can be done by any mechanic.

While these were a few items to put on your list of gear and equipment to carry during the monsoons, here are a few tips and tricks to follow during monsoons to remain safe -

Check your tyres: Always check your tyres before heading out in the rains as deflated tyres or tyres with low pressures are highly susceptible to skidding.

Check for old brake pads: If your brake pads are weak, have worn out or are cracked it is highly advisable to change them before monsoons as water causes metallic parts to corrode easily.

Pay attention on the road: look out for puddles, cracks and potholes during the monsoons. It can be really difficult to assess the depth of a puddle while riding towards it; hence it's wiser to try and avoid puddles on the road altogether. Also since both sides of the road generally face waterlogging and have debris, it is advisable to stay closer to the center of the road.

Park cautiously: While parking always look out for branches that might fall on your vehicle, avoid parking under a tree or close to an electric pole.

Maintain suitable distance: As roads get slippery, it is difficult to perceive the time required for the vehicle to come to halt. So as a general rule of thumb, maintain a safe distance from the vehicle ahead.

Hope the above helps get ready for the riding safe and staying dry while riding in the rain. So go ahead and enjoy the monsoon showers, for this time comes only once a year. Right safe and ride right.