Tips for safe bike commute during monsoons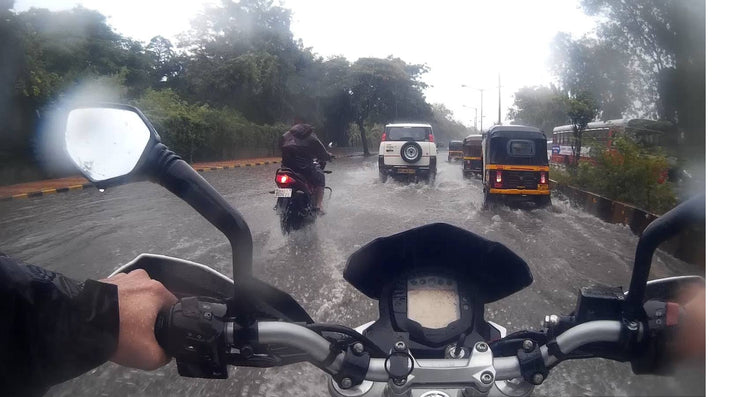 For riders all across the globe, there can be nothing as relaxing and serene as a ride through the lush greens and washed up highways thanks to the rains. As monsoon approaches most of us gear up for at least one ride into the hills or down to the coast, and this ride is usually less about the destination and more about the ride itself. We pack and equip ourselves accordingly (for help on this look up one of the previous HNP blogs). It's easy to prepare oneself for such a ride where we know the purpose is to get soaked up, enjoying the water splash across the helmet visor as one passes through thunderstorms.
However, another aspect of the monsoons is the inconvenience it causes daily commuters. The monsoons are probably the only time of the year that a rider wishes he/she had a car or basically a roof overhead to avoid getting drenched on a daily basis! Daily commuting mostly involves going to the office, dropping a family member to work/ school or running errands - all of which involve carrying important documents or books, mobile and wallet – which can be a real burden during the monsoons. That's if you leave aside the fact that not everyone likes getting drenched, and surely no one likes sitting in office with wet socks and clothes.
There are ways to avoid such hassles and enjoy riding through the city while traffic comes to a halt and everyone else looks for shade protect themselves. Here are a few tips to help you ride safely in city rains -
1. Always wear proper protective gear: We cannot stress enough on the importance of wearing proper gear, whether riding on open highways or on city roads, and no matter what the weather. Getting drenched can make riding gear a bit cumbersome, but ignoring it would be an expensive mistake to make. Helmets, jackets, gloves and boots are minimum requirements for even city rides made on a daily basis. Most good jackets such as Rev'it! Tornado or Oxford Toledo Air come with waterproof liners to protect from rain while also providing superior protection.
Helmets are an absolute must since the roads get slippery and prone to slippage. A full-face aerodynamic helmet such as the Bell Qualifier helps keep the water off the face while keeping the head protected.
Wearing waterproof riding shoes such as the TCX Rush Waterproof boots is also very important as sitting with drenched shoes and socks can be one of the uncomfortable feelings ever.
Gloves too, solve a dual purpose in rains - keeping your hands dry and avoiding slippage, and ensuring you don't feel prickling pain of raindrops piercing through the skin on your closed fists.
2. Wear and carry rain gear: You never know when the weather may surprise you; hence it is always advisable to carry rain gear during monsoons. Rain gear like Rev'it! Nitric 2 H2O rain jacket and Rev'it! Spinx H2O rain pants can be worn on top of riding jackets without a rain liner or if you want that extra bit of protection. 
3. Carry a bag or bag cover: You can never be too careful about keeping your belongings like mobile, wallet, etc. safe and dry during the rains. Oxford Aqua B-25 backpack and the Icon Squad 3 backpack are completely waterproof and are best suited for use during monsoons. Alternatively, you can use a rain cover over a non-waterproof backpack.
4. Pay extra attention to cables and moving parts that rust easily: As water is corrosive for any metal the rains tend to bring out the worse in machines. As cables get rusted and moving parts corrode in this weather, riding becomes a risky affair. Therefore, make sure all cables and moving parts, especially the chain, are lubricated regularly to avoid corrosion.
5. Always check tyres: Keep a regular check on tyre pressure and overall condition of the tyres. Wet roads make for a very dangerous playground to be playing with ill-conditioned equipment – especially something as critical as your bike tyres.
In the rains, it's important to keep in mind that not just you but your bike also stays safe. So avoid parking under electricity poles and trees with loose branches. Remember to laminate your motorcycle papers so you don't end up tearing them. And watch out for those potholes that are a menace on most city roads in India during the rains. Stay dry, stay safe and enjoy your ride through the city as it scampers to find shade.