Top 5 Off-Road Motorcycles in India - By Sarah Kashyap, Cross Country Rallyist.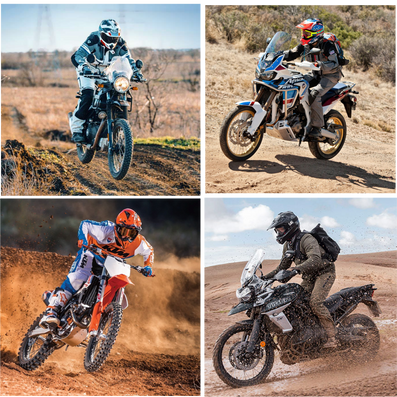 India is the new favorite destination for motorcycle manufacturers and new bikes are being launched every now and then.
With many riders taking to off-roading, and a whole lot of bike choices out there, I'm narrowing down some choices for a good off-road motorcycle -
1. Modified Hero Impulse with Karizma Engine - I have ridden the Impulse many a times off road and if done up properly, it's a great off-road motorcycle to have in the garage. Extremely economical and even more so to maintain, the only drawback is not enough power. But if you're a rookie, it's  a great bike to start off-roading with and to push your limits on! The only tip is, swap that engine with that of Karizma's.
2. Royal Enfield Himalayan - The most economical off-road bike in India is the RE Himalayan. I have personally tried and tested it at a lot of places including several solo trips to Spiti valley and even Raid de Himalaya. While off-roading, the most important thing to have is a good suspension. And the monoshock in the Himlayan goes a long way!
3. KTM EXC 250 / 450 – If you've never ridden an enduro bike before, you're in for a surprise with this one! It's hardly 106kgs and the power it has for that weight, makes it fly over those rocks and boulders! And what to say about the suspension! It's my all time favourite bike ever! Although not available off the shelf in India, but if you can import it or buy a second hand from importers, it'll be totally worth all the effort!
4. Triumph Tiger 800 XCX - As much as this one is ride-able regardless of your height and weight, I'd still say it's more suited for the big guys than petite ones like me! Simply because of the bike's weight. But goes without saying, the Triumph Tiger is one of the best off-road bikes  and  if you can afford it, go for it!
5. Honda Africa Twin - Fun Fact, Honda Africa Twin, once upon a time, won the Dakar Rally too! Yes! Says a lot about the bike, doesn't it! What more off-road than Dakar itself.