Helmets 101- For those new to the art of motorcycling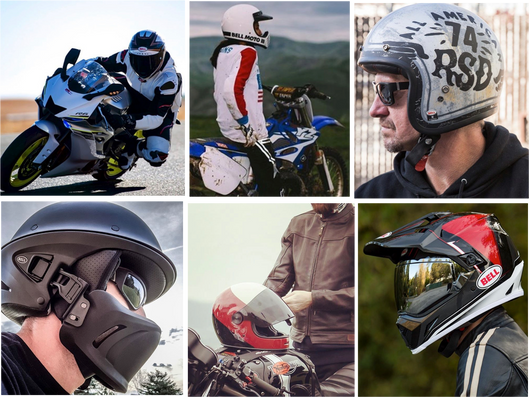 It doesn't matter what motorcycle you ride or the number of cylinders you pack between your legs, the helmet is unarguably the single most important piece of gear a rider must invest in.
With the different types of helmets flooding the markets, finding the right one can be a daunting task. And so Team HNP brings to you 'Helmets 101', detailing the different types of helmets available for you to suit your riding style and needs. 
1. Full-Face Helmet- A full-face helmet is your best bet with respect to protection. Such a helmet typically covers the entire head, base of the skull, as well as the chin. According to a study, the chin encounters over 50% of all accidental impacts and a full-face helmet provides optimum chin protection.
These helmets have a cut out across the eyes, fitted with a visor that can be swiveled up or down.A full-face helmet is usually lined with a number of vents across its surface to provide ventilation and breathability. It is the ideal choice for professional track athletes, motorcyclists with a powerful machine or anyone who wants the utmost protection.
Good examples of full-faced helmets include the Bell Qualifier, Bell Bullitt and Bell SRT - these are all designed for superior protection and ideal for street and speed riding.
2. Open-Face Helmet - Also known as a 3/4th face helmet, an open-face helmet is true to its name as it covers the top and sides of your head as well as the base of the skull. It's not the most ideal helmet in terms of protection as it lacks the chin bar but is a preferred choice for a number of riders who do not like the enclosed feeling or the weight of a full-face helmet.
For the parts that are covered, such helmets provide the same level of protection as a full-face helmet would. They may/may not have a face shield to protect and can be paired up with goggles for more protection and a stylish look.
These are the ideal choice for commuters who cover shorter but crowded distances and wish to feel the wind on their face! The Bell Custom 500 and Bell Riot are great examples of open-face helmets.
3. Modular Helmet - A modular helmet or flipup helmet is the best of both worlds as it combines the features of a full-face helmet and an open-face helmet. It comes with a hinge mechanism that allows the chin bar and visor to be lifted up, allowing the rider to eat, drink, talk and do a number of tasks without taking the helmet off.
Modular helmets usually weigh a little more than full-face helmets due to the added parts for the hinge mechanism and offer slightly lesser protection for the same reason. They are suitable for tourers and long distance riders as they allow one to function freely on the road with the helmet on. An excellent example of a modular helmet is the Bell Revolver Evo. 
4. Half Helmet - A half helmet covers only the top of your head and offers the least amount of protection to the rider. Riders choose to wear half helmets because they are light, put hardly any pressure on the head and are easy to carry around, while offering some protection to the back of the skull.
An exceptional case is the Bell Rogue helmet that comes with a detachable muzzle for added chin protection and functions like an open face or 3/4th face helmet. 
5. Off-Road Helmet - Off road helmets are purpose built for riding anywhere off the street. While they cover the entire head, they have striking design variations from a full-face helmet. The chin bar is elongated to prevent entry of dirt while increasing breathability, and the helmet has an additional sun visor to protect from the harsh sun. These changes are made considering the generally hot weather conditions and extreme physicality involved in motocross riding.
These helmets lack a face visor and thus need to be paired with a pair of protective goggles to perform to their fullest. They are made to be extremely durable and also lightweight to offer great protection with minimum fatigue to the rider. The iconic Bell Moto 3 comes very close in design and functionality of an off-road helmet and must be checked out for its sheer legacy value! 
6. Dual-Sport Helmet - A dual sport helmet combines the features of a full-face helmet and an off-road helmet, ultimately providing a helmet that can perform well both on and off road. It comes with a sun visor peak and extended chin bar similar to an off-road helmet, however the chin strap is closer to the face. The sun visor is also designed to be more aerodynamic so the helmet doesn't lift off at higher speeds. These helmets also have sealable heat vents and a full face visor offering better heat retention and  soundproofing.
The Bell MX-9 Adventure is amongst the best dual-sport helmets and comes with a detachable peak that can be removed to convert into a street helmet anytime.