Motorcycle Accessories That are a Lifesaver During the Monsoon Rains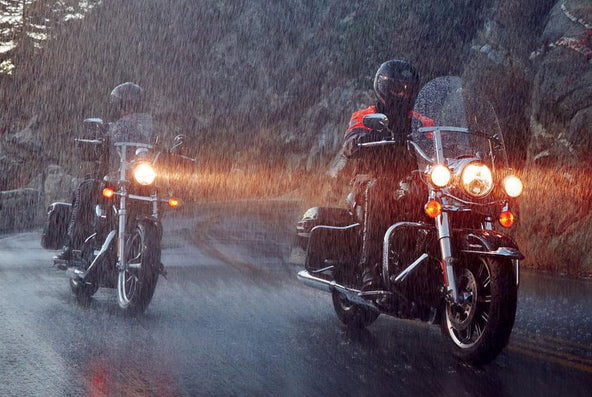 Riding in the monsoon is already a tough ask, so is there anything you can do to make your experience better?
You will never hear a rider say, "Thank god the monsoon is here". Wet conditions are never ideal for riding a motorcycle. However, some accessories will make your life easier when riding in the rainy season. Take a look at them below.
Waterproof Riding Gear - Well, this one goes without saying. A wet rider is a miserable rider, and being damp and cold on a motorcycle will undermine one's focus. Thus, when riding in the rainy season, you must use motorcycle gear that is waterproof or can be made waterproof by adding a liner. Rev'it! offers multiple options in this regard, such as the Nitric H20 rain jacket and Sphinx H20 rain pants. These are over-pants which will keep your riding gear underneath dry.
Waterproof Luggage Carrier - Wearing waterproof riding gear might save the rider from the rain, but what about their luggage? Keeping the luggage dry is essential when touring on a motorcycle. Wet luggage can destroy your plan for the next day, or even worse, mess up your electronics and gadgets. Luggage carriers for motorcycles come in all shapes and sizes. You can mount them on your fuel tank, on the tail of the bike or carry it on your shoulders like a backpack. Oxford is a well-known manufacturer of such goods. Their Aqua B-25 Backpack and Aqua T-30 Roll Bag are excellent options which will keep your luggage dry, even in the harshest of rain. The roll bags can be easily mounted on the tail section of a motorcycle.
Motorcycle Cover - This one is less about riding in the rain and more about preserving your motorcycle when you are not riding it. A motorcycle cover helps shield your vehicle from excessive water it might be subjected to in the monsoon. Apart from water, it also protects the motorcycle from other weathering elements like sunshine and dust. Many motorcycle owners park their vehicles out in the open. When it's raining heavily, the vehicle is left at the mercy of the weather. A motorcycle cover will help prolong the life of your motorcycle by protecting it from rust and electrical failures. Oxford's Aquatex bike covers and Oxford Rainex bike covers are excellent for this purpose and are available for motorbikes of different shapes and sizes.
Heated Grips - Big bikes often come equipped with heated grips from the factory, but if your motorcycle doesn't, you can always install aftermarket ones. In rainy conditions, the rider's hands can become cold, which does not bode well for them or their control over the motorcycle. To mitigate such a situation, one can use heated grips. These get installed over your regular handlebars and provide warmth to the rider's hands, keeping them warm and in control of the motorcycle. Oxford's Hot Grips are an excellent example of aftermarket heated grips. They are available for different categories of bikes, such as adventure and sport.
Smartphone Mount - In today's day and age, most things can be done on a smartphone. Gone are the good old days when you had to carry maps on a road trip. However, using a smartphone on a motorcycle can be dangerous, and it can be tedious to take it out every 10 minutes to check for directions. Instead, you can mount your phone on the handlebar using a smartphone mount. The bonus here is that Oxford's Aqua Dry Pro Phone mount can enclose your smartphone and make it waterproof, making it a must-have accessory in the monsoon.