Say Goodbye to a Foggy Visor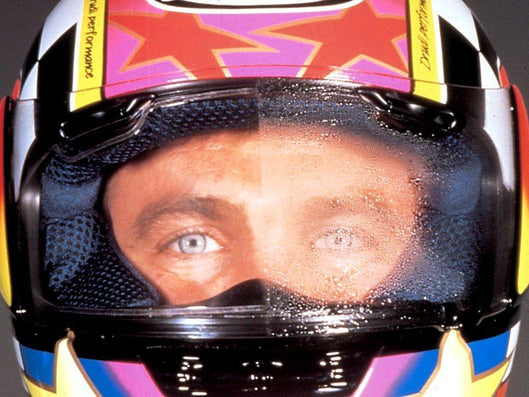 Why a helmet's visor fogs-up during monsoons, and how to prevent it from happening?
A helmet fogging up is one of the biggest problems that all riders face during the monsoon rains and the winter months that follow. The fogging impairs a rider's vision and thus, can be hazardous when riding in rough weather. Here is why it happens, and a few tips for its prevention.
Fogging on your helmet's visor is caused by a natural phenomenon we have all read about in the science class, condensation. As we know, objects made from metals, glass and plastics often feel cool to touch when the ambient temperature drops. So is the case with your helmet's visor during monsoons and winters. As the temperature drops, the visor gets colder, and when you breathe moist air on it, the air condenses and forms the fogging. It does not happen during summers because the opposite happens, and the visor material has a higher temperature than the ambient temperature.
Here's how you can avoid visor fogging.
Ventilation: The easiest way to make sure that your helmet does not fog up is ventilation. The faster your breath dissipates from inside the helmet, the lesser the chances of your visor fogging up. So, open up all the air vents on your helmet and crack open the visor one or two steps to better expel moisture from your helmet. You can also try removing the chin visor which will increase the airflow inside the helmet, thus reducing fogging. Helmets such as the Bell SRT and ones belonging to the Airoh ST501 series and the Airoh GP500 series feature high levels of ventilation, which will keep the problem of fogging at bay.
Balaclava:  A balaclava will also stop the fogging on your helmet's visor. It covers your mouth and nose, blocking most of the moisture from ending up on your visor. Oxford Cool Max and Rev'it! Micro Balaclavas are excellent choices that also feel comfortable on the skin.
Anti-Fog Coating: If you want a solution that is tested and tried by manufacturers, try a visor that comes with an anti-fogging coating. The coating lasts for a year or two, and that is usually a standard time frame to change your helmet visor. The Bell Qualifier and Qualifier DLX series helmets come with an anti-fog coating. All helmets from Airoh, apart from the Valor series, come with a pin-lock fog-resistant lens which helps to combat fogging.
Ready to browse for some anti-fogging measures for your helmet's visor? Visit us at www.highnoteperformance.com.