Innerwear to Wear Under Your Riding Gear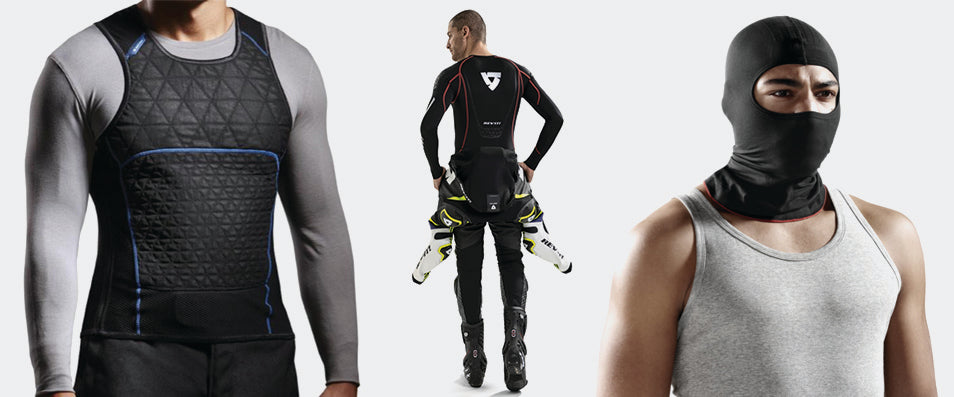 You know what riding gear to buy, but do you know what goes on underneath it?
Riding gear keeps us protected from mishaps on the road and innerwear keeps us comfortable. Many people, who are new to riding, are not aware of the importance of innerwear for riding gear. Innerwear keeps a rider comfortable by reducing friction between the rough and tough riding gear and the skin, and also gives shape to the rider's body.
Here is a list of different types of innerwear that are used by professional riders for comfort and safety on the road and track.
Balaclava: When we talk about rider safety, the first thing that comes to our mind is a helmet. So, when we say innerwear for riding, a balaclava comes first. It is headwear that goes under the helmet. A balaclava serves multiple purposes, such as,
Acts as a shield between your head and the helmet.
Stops the sweat and dandruff from your head from passing into the helmet liner.
Prevents fogging of the helmet visor by trapping the moisture in your breath.
Also, wearing a balaclava means you don't have to wash the helmet liner as frequently, hence prolonging the helmet's life. Oxford's Cool Max Balaclava and Revi't! Micro Balaclavas are a firm favourite among riders.
Base Layer:  A base layer is a synthetic fabric that goes under your riding jacket and riding pants. Apart from reducing friction between your skin and the riding gear, the base layer also keeps your body in shape - giving you that rider like feel. The base layer also acts as a cooling agent by absorbing the sweat from your body. As the incoming air dries the sweat, you feel cooler in the riding seat. Additionally, it also keeps the sweat from ruining your precious riding gear. Oxford makes some of the best base layer garments for riding that are the choice of professionals.
Cooling Vests: Riding in hot weather conditions is a given for any riding aficionado in India. So, riders need to keep their body temperature in check by hydrating regularly. Another thing to do is to get a cooling vest. This one-piece innerwear prevents energy loss through dehydration by keeping your body cool. Rev'it! Cooling Vests are amongst the best in the business. These vests fit snugly enough so you won't even notice them once the riding jacket is on.
For casual riders, these riding innerwear items are quite enough. However, if you are a professional on the track, a racing undersuit is what you will need to keep cool. Now you can buy professional bike racing undersuits from Rev'it! at High Note Performance. The Rev'it! Overall Excellerator Race Undersuit is a one-piece base layer that can be worn under a race suit. It is designed for all-weather application and keeps your body temperature at optimum levels. The racing undersuit is made from stretchable material for a comfortable fit.