Rider-Tech That Makes Life Safer and Easier on a Motorcycle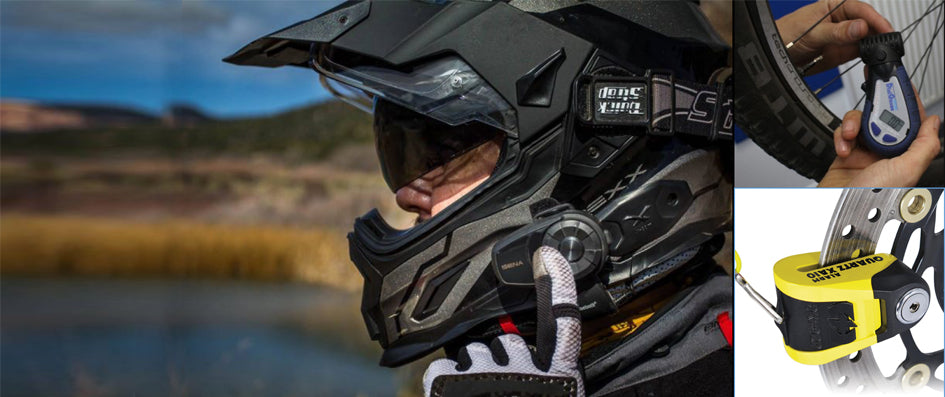 How do added electronic accessories make lives easier for a rider?
Slowly and steadily, electronics have been creeping into our lives over the years, and have cemented a place that can be replaced by nothing else in the near future. The same is the case with motorcycles. And no, we are not talking about rider aids such as traction control, cornering ABS and the lot. Instead, our focus is on electronics that can be bought as added accessories and will make your life easier on a motorcycle.
Digital pressure gauges: There are multiple puncture shops on the highways, and even the back roads, one might say. But you know what they all lack? A well-calibrated air pressure gauge. That is why the Oxford Digi gauge comes in handy, whether you ride only in the city or frequently hit the highway. While you can use the regular puncture shops to fill up the air, the Oxford Digi gauge will help you in regulating your air pressure up to the level that is recommended by the manufacturer.
Battery management system: Modern-day motorcycles are 100 per cent reliant on their batteries for a load of things and gone are the good days when bikes could be ridden without a battery, by tinkering with a few wires. Thus, a battery management system makes sense to keep it in good shape. The Oxford 900 Essential Battery Management system does just that. It can read out the health of your batter by displaying various parameters such as voltage. Also, if left connected, the system will carry out systematic checks to prolong the life of your motorcycle battery.
Stopping it from getting stolen: Making sure that your bike stays yours is very important, and Oxford makes the Quartz Xalo XA10 Alarm Disc Lock just for this purpose. If you are leaving your motorcycle unattended in a dodgy area, slap on this disc lock that will make a noise if someone tries to mess with it.
Headsets: These are of many types that serve different functions, but the primary function of any headset is to facilitate communication for the rider. Sena makes multiple headsets that serve different purposes. If you are looking for something to take calls and listen to navigation instructions on the go, then Sena 10S Headset and Sena 20S are great products that can be slapped onto the helmet and will make sure you never miss a call or directions again when riding. Sena also makes the 10C Pro Bluetooth headset that comes with a camera. This serves as a multipurpose tool that not only keeps you connected to take calls and listen to directions, and it also records your ride. Sena also offers a helmet clamp kit that helps install these headsets securely and adequately onto a helmet.
bluetooth Headsets, helmet clamp kit, high note performance, Motorcycle Accessories, motorcycle Battery management system, Motorcycle Maintenance, Oxford 900 Essential Battery Management system, oxford 900 essential BMS, Oxford Digi gauge, oxford motorcycle lock, Oxford Rainex bike covers, Quartz Xalo XA10 Alarm Disc Lock, riders safety, sena 10C Pro Bluetooth headset, Sena 10S Headset, Sena 20S Headset, sena helmet clamp kit