Top Picks for Women's Riding Gear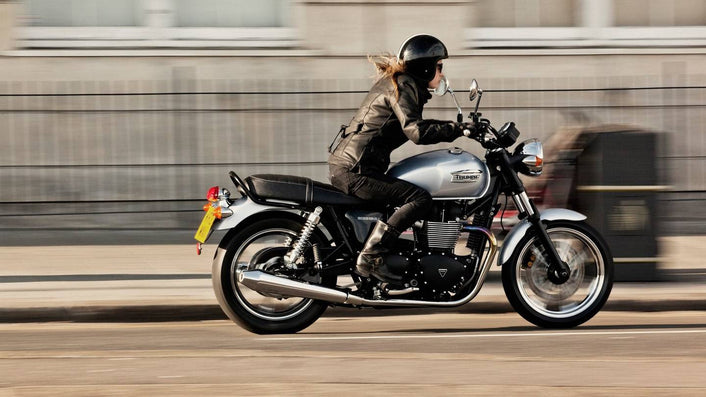 In recent years, India has seen a surge in the number of women leaving the pillion seat and embracing the rider's position on the bike. Most women riders are aware of the need for proper protective riding gear, and it's important that they pick gear designed for their built and structure. This is not only important from a comfort and looks point of view, but also from a safety and protection perspective. 
Here are Team HNP's top picks for riding gear designed specially for women-
1. Rev'it! Eclipse Women's jacket- 
The Rev'it! Eclipse Women's jacket, with an ergonomic cut to perfectly fit ladies, is styled as much for city riding as it is for sports touring. The mesh construction ensures unrestricted passage of air to keep the rider cool while riding under the sun through crawling city traffic.
Its construction is a balanced mix of large mesh panels and 600D polyester to provide abrasion resistance at vulnerable impact areas. The jacket uses Knox Flexiform CE rated armor in the elbows and shoulders, while an optional back panel may later be added. Adjustable straps at the biceps and hips allow for the jacket to fit better. It also comes equipped with double jeans loops and a multitude of external and internal pockets. Available in brown and black colours to better suit your style. 
2. Rev'it! Airwave 2 Women's jacket-
Rev'it! Airwave 2 women's jacket is a sport jacket with an aggressive look to it, and at the same time an hourglass fit with a princess seam. The jacket comes loaded with a ton of features such as large mesh panels at the chest, shoulders and back to ensure good airflow, and a 600D outer layering to ensure the rider stays protected in case of a fall.
Knox Flexiform CE protectors at the shoulders and elbows provide extra protection at high impact areas. The front zip comes with an auto-locking feature making sure it stays in place. Adjustable bicep straps and a velcro strap at the wrists and hip make sure the jacket fits perfectly. 
3. Oxford Girona 1.0 Ladies Short Jacket-
The Oxford Girona 1.0 Ladies short jacket is an all weather jacket, lined with a waterproof membrane, a storm flap and rain gutter to ensure your clothes stay dry even in the heaviest downpours.
The jacket is well equipped with air vents to provide breathability in the scorching sun. These air vents come along with water resistant zips in order to seal them off. There are adjustable straps at the biceps, forearms and waist in order to provide the best fit. 
4. TCX SP-Master Lady Boots-
The highly versatile TCX-SP master ladies boots are perfect for sport, touring and light track use. A highly refined, ergonomic and lower profile makes them perfect for women riders. The TCX SP-Master is made up of microfibre along with TPU to maintain a very low weight and increased breathability.
It has a well-refined heel, toe and lateral profile with extensive padding to protect in high impact areas. The heel guard and toe slider are made up of polyurethane to offer great protection at a lightweight. The toe is replaceable and the shift panel made up of polyurethane is integrated on the upper side. The front and back bellows are made up of synthetic leather and offer extensive stretchability to improve comfort. The upper gaiter provides a good fit by wrapping around the calves. The boot offers great shin protection and the medial side comprises a velcro opening with a YKK zip on the inside. The footbed of the boot is also replaceable after wear and tear from extensive use. 
5. TCX X-Square Lady Boots-
The TCX X-Square Lady Boots is a fantastic rendition of the best-seller X-Square for men that TCX has optimized for women riders with an ergonomic and comfortable fit, that too at a very attractive price point. It comes well equipped with lateral malleolus, medial protectors, a toe box and heel protector. It comes with a velcro cuff on top and speed laces.
The sole provides high tactile feedback with its high grip and wear resistant sole. The boot stands out from others with a Suede shell and accented leather inserts. The boot also comes with a removable shift pad. The internal lining is made up of a moisture wicking mesh liner to provide improved breathability and comfort.