Tips for Riding in the Winters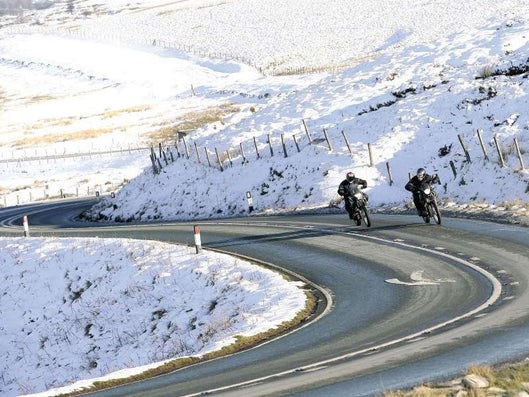 India is a country of amazing contrasts, and the weather conditions here are no exception! From exasperating heat to freezing cold months, these extreme weather conditions pose different challenges for bikers. With winters upon us, here are a few important tips from Team HNP to help you brace the cold and enjoy your rides this season - 
Layer up: While most modern day riding jackets come with a removable thermal liner, it may not be enough in extremely cold weather, making it important to wear multiple layers. 
Things like thermal innerwear, balaclava, neck warmer, long socks, insulated gloves and boots are advisable for such riding conditions.
Oxford base layer knitted pants and top are the perfect innerwear as their fast wicking material keeps you warm in cold temperatures and cool in hot conditions.
The Rev'it! Micro Balaclava is ideal to keep your head and neck warm. It's also advisable to wear gloves such as Rev'it! Sirius H20 that is waterproof and designed especially for winters.
See and be seen: The winter months bring along with them reduced visibility. A few steps can ensure a safer ride during such conditions.
For regular tourers and commuters, wearing a high visibility jacket such as the Rev'it! Tornado 2 HV jacket is the best option as its reflective design and fabric ensure others see you even from a distance. 
The Oxford bright vest and Oxford bright top are the perfect addition if you want to stick to your regular jacket. Ensure that all your bike lights are working properly, and consider installing blinkers. The cold temperatures also mean your helmet visor will fog up frequently. Hence wearing a helmet with anti-fog features is advisable, so that your vision is not hampered while riding. 
Bike modifications and tyre pressure: If your motorcycle permits, consider installing hand guards and a big windscreen. These help reduce windblast hitting your body and keep you warmer. In extreme conditions covered hand guards or heated grips can be a blessing. Oxford HotGrips - available for cruisers, tourers, adventurers and sport bikes- offer higher levels of grip and feedback along with 5 heat settings to suit your needs.  
Always keep this in mind before setting out on a winter ride that cold weather means less tyre pressure which equals to less traction. Therefore check the tyre pressure before you hit the road and always maintain more braking space, as the tyres will offer less traction when you slam the brakes.
The Oxford Tyre gauge pro is a sturdy yet flexible tyre pressure gauge with a reading range of 0-60 psi that helps ensure the tyres are the right pressure. 
Riding tips: While riding in the winter months it is essential to stop frequently and replenish your body. We don't feel as thirsty in the cold as we do in the summers, and tend to dehydrate ourselves leading to fatigue. Remember to stay hydrated and drink the correct fluids. While coffee may make you feel warmer, it dilates the blood vessels to the skin making you dissipate more body heat. Eat regularly and eat healthy to provide your body the heat it requires.