Top Picks of Street Style Boots for Everyday Riding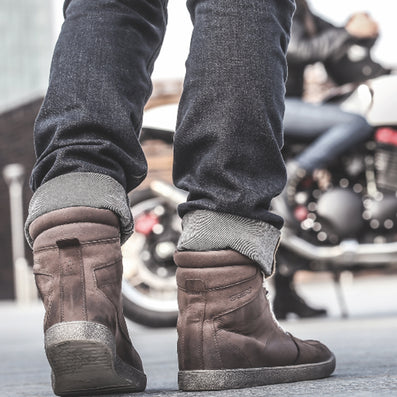 Many riders blow up large amounts of money on a fancy motorcycle but cry poor when it comes to buying the necessary riding gear, while it should be the other way around. Especially daily commuters fail to understand the importance of gear other than a helmet, and that too so they can evade the cops! Even riders who pad up for the daily commute overlook a vital part of gear - a good pair of riding boots. Riding boots are essential not just to protect the toes and ankles, but also to increase endurance and efficiency while riding. A good pair of riding boots is needed to keep traction on the road, foot pegs, gear and brake pedal. They need to support the ankle as you halt and take on the weight of the motorcycle on your legs and feet. 
Lots of options meant for specific riding purpose are available out there. But nothing beats the versatile street style boots that are good for weekend or long rides, and the most suitable option for everyday riding.
We at Team HNP have curated our top picks of Street style boots ideal for your daily commute-
1. TCX Rush waterproof Boots – The CE-rated and completely waterproof TCX Rush waterproof boots are definitely a steal. The economics of these boots is just mind-boggling as it's difficult to comprehend how TCX managed to provide such superior quality and protection at such a reasonable price! The toes have TPR protection that's the closest your feet get to being under an armour.
The reinforced toe box is nowhere as flimsy as that of other boots, and despite the stiff sole they are extremely comfortable. Baked-in ankle cups at the back provide further protection to the ankle and foot overall. The Velcro strap running across the top makes them easy and comfortable to wear, giving you a snug fit. You must check these boots out! 
2. TCX Street Ace boots – These rock solid sneakers are something of a hidden gem. Although they look like regular non-riding sneakers, the TCX Street Ace Boots are amongst the best CE-rated waterproof sneakers available out there.
With US-inspired styling, these shoes provide excellent ankle protection, are very breathable, and provide good stand and support - all thanks to a beefier sole. If you want a pair of protective riding boots with an uber cool look, then look no further!
3. TCX X-square Ladies –The popular TCX X-square boots for men are now available for women as well. An everyday riding shoe, the TCX X-Square Ladies boots come with added protection and support, and are amongst the best boots for lady riders out there. Medial and lateral protectors built into the shoe make sure your feet are protected from all sides while the toe box and reinforced heel counters provide protection to the front and back of the feet.
Moisture-wicking mesh liners make them extremely well ventilated. The TCX sole popular for its high grip and wear-resistant properties gives the rider high tactile feedback. The boots come with a speed lacing closure system and Velcro cuffs running across making them easy to put on and comfortable to walk around in. 
4. TCX Roadster – A crossover between a short boot and a racing style aggressive boot, the TCX Roadster gives that sporty look you'd want on a sports bike.
With no laces, the zipper and Velcro systems fall right in place giving the rider a comfortable fit. The beefy heel cockpit along with aggressive looks also provides protection to the heel and ankles. The mesh fabric inside the shoe helps prevent the feet from getting moist, increasing endurance in the long run. 
Riding boots aren't an essential gear for just weekend or long rides. They are as important on a daily basis, as is a helmet. So take your pick and boot-up!