Essential Gear and Accessories for Riding in the Mountains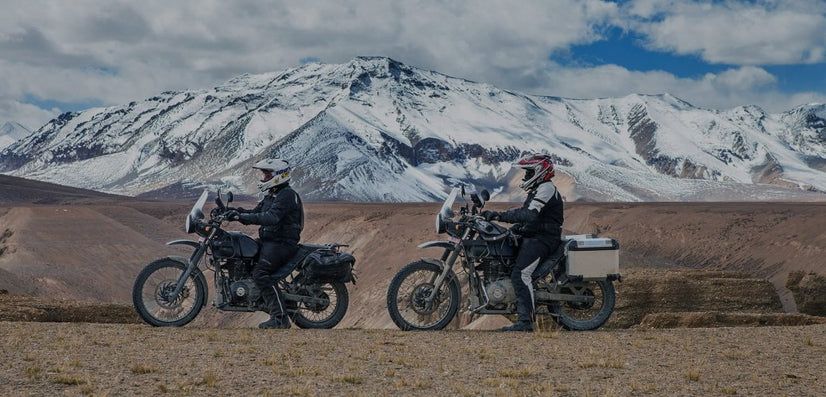 All city-dwellers dream of getting away from the chaos of city life every now and then, and bikers are no exception! Unruly traffic, constant honking and road rage in the cities are bound to get on anyone's nerves.
Therefore getting away from the madness every now and then is a great idea, and what better way than on your bike. Some like to head for the sun and sand, while others make a run for the mountains. India offers some of the most beautiful and challenging mountain rides that a biker can ask for. The extremities one faces even on the easiest mountain ride are unparalleled to those faced at sea level. Hence it's essential to prepare well, and we are here to help you with exactly that. Here's our list of essential gear and accessories that one must carry when attending to the 'call of the mountains'!
1. All-season riding gear - As you ride to locations way above sea level, the mercury drops progressively, making it essential to acclimatize your body to the dropping temperature. It's not advisable to wear hot-weather gear as it's meant for the exact opposite of protecting from the cold. Similarly cold-weather gear tends to heat up the body even when not required – e.g. on the plains as you ride to/back from the mountains.
All-weather jackets such as Rev'it! Levante and Rev'it! Tornado are ideal as they have thermal-waterproof liners that can be added/removed as per the changing temperature. A touring jacket and pants combination such as the Rev'it Sand 3 is also well suited for the purpose. 
2. Waterproof riding boots - Riding boots are an important part of any ride, but become absolutely vital in the mountains. As you hit challenges like loose gravel and icy cold-water crossing, the need for protective and waterproof boots increases.
Boots such as TCX Baja Mid WP and TCX Hub are extremely comfortable and protective, making them ideal for mountain riding. For the more adventurous riders, TCX Baja WP and TCX Drifter WP are amongst the best adventure-touring boots in the market. Wearing these boots can make a huge difference to your riding experience as they increase endurance, that's required especially for the challenging mountain routes. 
3. Cold-weather gloves - On a ride to cold regions gloves are the most important piece of accessory one can wear. And not just any gloves, but those suited for cold weather conditions. Just like boots, gloves not only protect during a fall, but also against the icy wind hitting your knuckles while you ride.
The Rev'it! Galaxy H2O gloves and the Rev'it! Sirius H2O gloves are amongst the best cold-weather gloves that are highly protective and have insulation and waterproofing, keeping your hands toasty. These gloves are the only thing that protect your fingers from being frozen, impacting your focus and overall riding experience. So whatever you do, don't forget your riding gloves behind.
4. Innerwear – Depending on how low the temperatures are likely to fall, a good pair of thermal innerwear like the Oxford base layer knitted top is an essential carry-along when riding in the mountains. Its thermal properties keep you warm when it is cold and cool when it is hot. Not just that, its compression fit supports your muscles and reduces fatigue while riding long hours.
5. Heated grips for Handlebars – One of the most innovative motorcycle accessories, heated grips are ideal for riding in the mountains and cold-weather conditions.
Oxford HotGrips are a great option and come in a variety of options for cruisers, sports and touring bikes. 
Stick with the essentials listed above and you'll find yourself cruising along, enjoying the scenic beauty, calmness and thrill of riding in the mountains!