Motorcycle Maintenance Essentials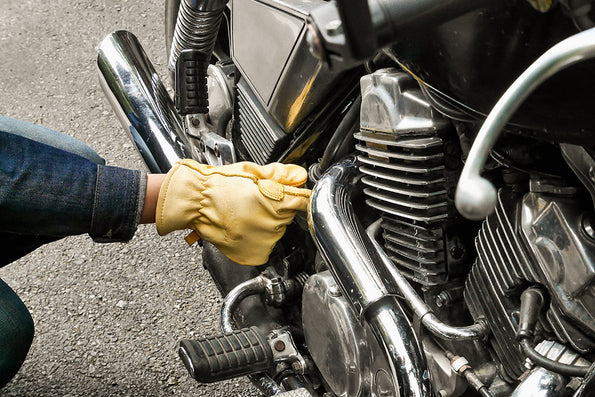 What do bikers love as much as riding out? Whether you are an amateur and professional biker, whether you've just bought a new motorcycle or are a proud owner for years, grooming and maintaining your beast is something that pleases everyone alike! The joy of a simple bike wash or even a basic cosmetic modification gives a sense of satisfaction.
A motorcycle needs maintenance work regularly - the oils and filters need to be changed regularly, the tyre pressures regulated and the chain needs cleaning and lubing – amongst other things. Team HNP has put together a list of motorcycle maintenance accessories and essentials that a rider should must have in order to keep the mean machine looking fit and unique-
1. Battery management systems - 
Battery maintenance is perhaps the most neglected of all tasks, but quite important nevertheless. There are a few very useful products out there that can help with this.
For example, the Oxford 900 essential battery management system that is a switch mode charger designed to automatically maintain, optimize and prolong the life of any 12-volt battery. This sophisticated system uses microprocessor control to select the optimum charging profile. It also performs sequenced checks and displays the battery status on a backlit LCD screen.
Oxford Oximiser 3X Advanced Battery Management System is a more versatile solution as it comes handy for motorcycles as well as for cars.
2. Bike safety products - 
A big part of maintaining your bike is to keep it safe. That's where products such as the Oxford Screamer Alarm Disc Lock come super handy.
The attack activated screamer alarm doubles up as a disc lock and comes with three keys and key replacement service. In case the motorcycle is disturbed or tampered with, the screamer blares at a high volume alerting everybody in the vicinity. If the motorcycle is left undisturbed the alarm blares for 10 seconds and stops, if it is however disturbed for longer the alarm continues to ring. Another great option for this purpose is the Oxford Quartz Xalo alarm.
3. Tank protection solutions-
Your bike's tank cannot avoid contact with you and your riding gear. And without protection, damage is inevitable.To avoid scratches and marks on the tank it is highly advisable to use something like the Oxford Arrow tank bumper that's easy to remove/re-apply.
Oxford jagged tank pads are also useful to protect your bike's paint job and come in a universal shape to suit any bike. 
The Oxford tank saver is another great porduct to protect the paintwork from the rubbing caused by your knees. It is self adhesive and allows decals and paintwork to show through.
4. Multi-purpose Tool Kit-
A decent toolkit can get you out of really sticky situations, as the ones that come complimentary with the motorcycle barely have all the necessary requirements.
The Oxford Tool Kit Pro is one such comprehensive solution that's a 27-piece toolkit including screwdrivers, spanners, wire cutters, pliers, cable ties and more. It comes in a compact storage case that fits perfectly under the rear seat, this one's a must-have for the most basic motorcycle tinkering and maintenance.
5. Bike cleaning products- 
A thorough professional bike wash once in a few months is a good idea, given the riding conditions on Indian roads. However, you must keep some cleaning essentials close and get your hands dirty doing some bike grooming yourself every now and then.
Oxford has a whole lot of cleaning products that can come handy such as the Oxford Double Stubble Wheel Brush and Tyre scrub brush, Chain Brush, Wash and wax mitts, And don't forget the Oxford bungs that stop water from going up the exhaust pipe when cleaning your bike. 
These were a few accessories and essentials any rider must invest in to increase the life of his/her motorcycle. So go ahead…groom it, deck it up and flaunt it!