Crash Guards: Additional Protection for Your Motorcycle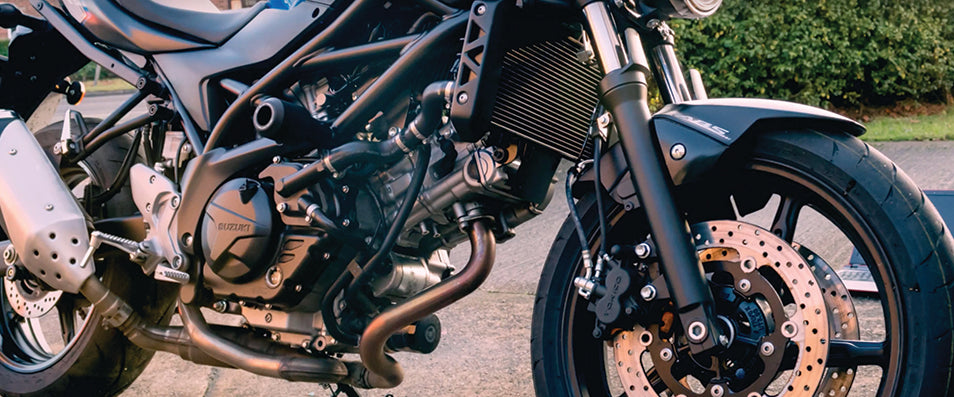 Just like a rider wears protective gear; a motorcycle also needs a bit of additional protection to come out unscathed in the event of a crash.
Motorcycle riding is a skill that one can only master by practice. You might mug up every piece of information there is about going fast on two wheels, but unless and until you get into the saddle and practice what you learn, you will not be able to better your riding skills. Honing your skills will require practice and pushing your limits, and invariably that will lead to a point where you go over the limit and experience a fall or a crash.
Why are crash guards important?
In this case, protection will be required. And even though you might be decked from head to toe in the best motorcycle riding gear available, your motorcycle will need protection too, and this is where motorcycle crash guards come in. You see, when you are pushing the limits of your motorcycle, that fine line between leaning the motorcycle and kissing the tarmac disappears. Having crash guards on your motorcycle in such a situation will mitigate the damage to it.
What kind of crashes do they deal with best?
This is especially true in the case of low-side accidents where the rider experiences a loss of traction, as they have gone over the grip limit of their front or rear tyre. Many experienced riders can set the motorcycle down gently on the tarmac in such a scenario, further mitigating the damage to the bike. But even if that is not the case with you, the crash guards will take the brunt of the fall and will help in avoiding any significant damage to your motorcycle.
What kind of crash guards are there in the market?
Now there are multiple types of crash guards available for motorcycles. The most common ones you will see on motorcycles in India are bent metal pipes that protect the engine and the most valuable components of a motorcycle around it. These aren't built for the track and are built to protect in case of an accident on the street. They will to a certain extent also help save the rider's foot in a situation where the rider gets stuck underneath the motorcycle and is being dragged along with it. This type of crash guards work well with adventure or naked motorcycles. In the case of sport bikes or super sports which have a fairing, such crash guards cannot be installed due to a lack of space.
What about crash guards for the track?
If you are looking to protect your fully-faired motorcycle on the track, you will need sliders. Sliders such as the Evotech Crash Guard are bobbin-shaped parts that bolt on to your motorcycle. They stick out from the motorcycle and work as the first point of contact between your motorcycle and the ground. Evotech crash guards are readily available for motorcycles such as the Kawasaki Z900, Versys 650, and Ninja 650. Sliders are made from materials that can absorb frictional forces, thus soaking up the energy that would have passed on to your motorcycle's bodywork in the event of a crash.
In summary, crash guards will help in mitigating damage to your motorcycle in the event of a crash, although how much they do help will also depend on the kind of crash. They will be more effective in case of low-side crashes than high-side crashes.