Motorcycle Accessories That Will Make Your Life Easier While Touring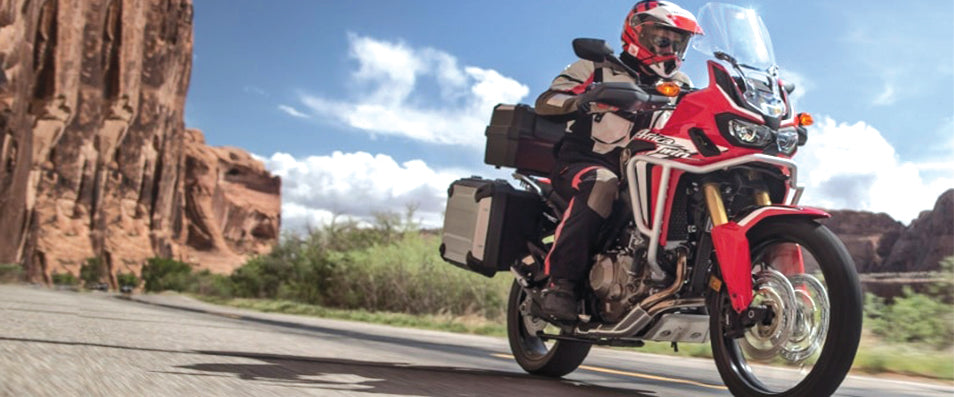 Hitting the open road on your motorcycle but miss the convenience of your car? These accessories will change that.
There are high chances that your love for two wheels will often make you ride long distances to explore new places. While doing this in a car is relatively easy, taking along everything on a motorcycle that you might need on a road trip can sometimes become difficult. Here are a few accessories that will make your life easier, the next time you decide to hit the road on two wheels.
Bluetooth headset - Staying connected with the world has become immensely important in today's world, where smartphones run most of our lives. This becomes quite difficult on a motorcycle where one's head stays inside a helmet all the time. However, there are now Bluetooth headsets that can be safely attached to a helmet and will relay calls and navigation information to your ears, via speakers that can be fitted inside the helmet. The Sena 10C Pro Bluetooth Headset is an excellent example of a Bluetooth headset, and there is the bonus of it also having a camera, to record all the great moments from your ride.
Storage - Carrying luggage on a motorcycle might seem like a task to many riders, but companies like Oxford have developed various products that make the task easier. The Oxford Q15R Quick Release Tank Bag is great for carrying luggage on a motorcycle's fuel tank. It can take in 15 litres of cargo and can be made waterproof by adding a liner. If you like to carry your luggage at the back, the Oxford P60R Panniers will strike your fancy. They can take in up to 60 litres of cargo, which will fulfil all your touring needs. And if you are looking for a waterproof solution, the Oxford Aqua roll bags are the perfect solution. An absolute must for fastening things to your bike while touring are the Oxford ROK straps, which can be had in different lengths.
Tyre pressure monitor - The air pressure in a motorcycle's tires is crucial to how it will handle on the road. This is why it is essential to keep the air pressure just right, according to the bike manufacturer's recommendation. While most puncture shops on the road will help you out with filling the air in your tires, most of them use pressure gauges that give out an incorrect reading. Oxford's Digi Gauge will help you in such situations and can show air pressure in multiple units.
Visibility enhancer - Motorcycle riders have to make sure they are adequately visible on the road as they are the most vulnerable type of motorists on public roads. This is especially true at night as the compact size of two-wheelers can often lead to other motorists not noticing their presence. To mitigate these dangers, there are multiple accessories that help riders become more visible on the road. The Oxford Commuter X4 Fibre Optic Rear Light can be worn over your riding jacket and has an LED light fibre optic straps, that emit light to warn other motorists of your presence. Another visibility enhancer manufactured by Oxford is their Bright Vest. It is neon in colour and most of the light that falls on it, warning other motorists of your presence on the road. This is highly effective at night.
Puncture repair - Dealing with punctures can be particularly nasty, especially if you have to push your motorcycle to the next puncture shop. The Slime Plug Kit will help you out in such scenarios as it comes with all the materials required to fix a tubeless puncture. The kit also comes with rubber cement that helps in sealing the puncture effectively.
Pillion grab rails - While most motorcycles come with grab rails at the back, it can often become uncomfortable for the pillion to use them when the bike is being ridden in a sporty fashion. This is because the rider is tucked forward, and the pillion is left to deal with all the wind blast headed their way. If the pillion chooses to lean forward to avoid the wind blast, they have nothing to grip. In such scenarios, Oxford Rider Grips Pillion Grab Handles can be worn around the rider's waist, and it has handles sticking out of it, which the pillion can hold on too.