Must-Have Accessories for Summer Riding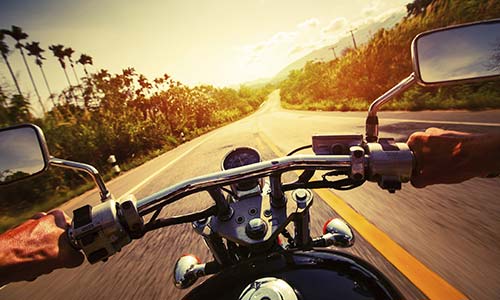 The sun outside is scorching; the air is warm and dry. While most people are locked away in their concrete air-conditioned fortresses trying to fend off the summer heat in a hopeless battle, riding enthusiasts embrace this heat and bind it with their passion for riding and set off onto 'Vitamin-D' enriched summer season rides! Though summer time provides the best visibility amongst all seasons, it can be a difficult time to ride with all the required safety gear. Riders tend to ditch the protective gear and stick to very basic gear like helmets and gloves. That's where the rider let's his passion take over logic.
The right gear and equipment should ensure complete protection while also ensuring comfort, breathability, and functionality in the summer conditions we face in India.
Here are a few riding gears and equipment one must carry during a summer ride to be safe and remain cool and hydrated throughout the ride.
The right riding gear - A rider's first move in summer time is to switch his/her regular well-fitted helmet with a loose fitting maybe cheaper and more ventilated one. He/she then ditches the riding jacket and switches to regular denim, all of which provide very low protection. These three basic riding gears, or a rider's three deathly hallows, are all that keep a rider from severe or fatal injury. So it's important not to compromise on them during the summer months. When it comes to helmets the thick padding in full-face helmets such as the Bell Star RSD series and Bell Star Spectre series helps in keeping your face and forehead dry by absorbing sweat and also protects your eyes from the harmful hot air blasting at your helmet outside. When it comes to jackets, while leather on even a mildly bright day is totally not an option, mesh or a combination of leather and mesh jackets is a good choice, the former being the most optimum. Even combination textile gears with cooling vents allow free flow of air. However, your best bet in the summers is mesh. Jackets such as Rev'it! Airforce and Rev'it! Eclipse provide maximum ventilation through their mesh construction. The same is true of Rev'it! Sand 3 pants and Rev'it! Airwave 2 pants that are really helpful in the summer as they provide most protection while also providing good breathability. Riding Denims are also good to ride in the summer, though these come at the cost of compromising some protection.
Balaclava - To ensure the best performance from a helmet in the summers one must also ensure that there is a layer between the helmet and skin for maximum absorption of sweat. Here a balaclava or bandana does the trick.
Gloves - A good pair of summer riding gloves is very important, as much as it seems unnecessary. In the summers our palms get sweaty causing the handle grips to be slippery and can be a reason for loss of control during a ride. Nowadays, good biking gloves have increased airflow intake. This is achieved by using armor-like protection at vulnerable places while using lightweight material at places that are not critical or vulnerable. Rev'it Sand 3 gloves are a great example of gloves appropriate for the summers.
Riding Boots - The right pair of boots can make a very significant difference on a ride in the summers as feet drenched in sweat isn't the most comfortable feeling.Shoes that go above the shin have a breathable upper portion with zips for increased ventilation is preferable. TCX RT-Race Pro Air Boots and TCX ST-Fighter Boots are perfect examples of such boots.Wearing a good pair of socks to absorb the sweat is also very important.
Cooling vest– Cooling vests use evaporative technology to keep the body cool. It helps in maintaining a cool temperature inside the vest by controlled evaporation of water that it is drenched in prior to the ride. These vests are very thin but make a significant difference in body temperatures. Cooling vests are available in pullover like the Rev'it! Cooling vest liquid or zippered varieties like the Rev'it! Challenger Cooling Vest, both being excellent choices to keep the mercury from rising.
RidingGlasses - A good pair of shades have always been the stereotypical badass biker look, but as the summers set in, the need to protect the eyes increases. Glasses protect the eyes from the warm air and provide relief in a half face helmet but shading glasses can also be very helpful under a full-face helmet in this sweltering heat.
Hydration packs - A hydration pack is a hydration system that uses a bag-like backpack to store water in an insulated pouch. Hydration packs come very handy, as it is not practical to keep stopping and drinking water at regular intervals. The body needs about a liter of water every hour and water bottles are just not practical enough. Hydration packs also come with storage space for few other accessories.
Apart from these basic equipment and gears, it is very important to keep a layer of cloth covering all possibly exposed areas of skin, like the back of the neck. One must always apply sunscreen on exposed areas of skin. Along with the cooling vest, bandanas can also be dipped in water to keep the temperature on the cooler side. Also, each individual rider should carry lots of water and candy to avoid dehydration. Just by following simple tips and tricks, a rider can breeze through the piping hot summers.