Top Six TCX Boots that will keep you Warm during the Winter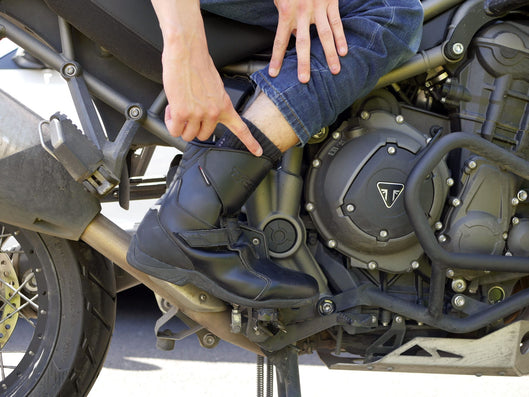 When it comes to protection for your feet while riding a motorcycle, TCX is a well-known brand. In fact, we have come across many riders that simply refuse to try out any other brand, once they use a TCX boot. That is because TCX offers solid protection, insulation and comfort, all rolled into one package. So, which TCX boot should you be looking at if you are going to be riding this winter season? Here are our top six options:
This is the top-of-the-line boot from TCX, and for that large price tag, you get a lot. First, this is a proper boot in the sense that it fully covers your shin. Yet, the construction has been done in such a way that you could ride any kind of motorcycle comfortably. Be it a super-sport or an ADV, you will be comfortable on both. There is good insulation to keep your feet warm and a waterproof Gore-Tex membrane to keep them dry as well. Last but not the least, the Infinity 3 GT-X boots also have a specially constructed orthopaedic foot bed that keeps your feet comfortable on the longest of rides. The outsole of these boots is meant for touring and light off-roading.
If your riding is more focused towards off-road conditions, then you should look at the Drifter Waterproof boots from TCX instead. These have a lug-sole which offers more traction in off-road conditions. It is also comfortable when you are off the motorcycle and walking or hiking, making it perfect for if you like to live off your motorcycle. There are inserts for ankle protection, a waterproof lining and a specialized suede protection for your inner calf. Not only that, but the boots are also finished in leather and have aluminum buckles which further make them ideal for off-road conditions.
If you like spending hours on the road, then, the Airtech 3 GT-X boots will be a godsend for you. First, they are not as highly priced as the top-of-the-line boots from TCX, so you catch a break there. Secondly, they have a Gore-Tex waterproof membrane, an orthopaedic insole and a GroundTrax outer sole which makes it ideal for use on the pavement. So, if you are going to be sticking to tarmac, then the Airtech 3 GT-X boots will not only save you money but will also be more suitable. The microfiber and fabric construction also makes these boots highly breathable making them easy to use in everyday conditions as well.
If you're not comfortable wearing full knee-length boots, then, you should look at the Explorer.4 GT-X boots. Visually, they are a little smaller than knee-length but offer similar levels of protection. They use a microfiber material in their construction and even have abrasion resistance fabric panels to beef up protection. All of that and Gore-Tex waterproofing means that the considerably smaller price tag makes this a win-win situation for those on a budget, but not looking to make sacrifices on the protection front.
If you often ride in the city, chances are, you want a boot that's not only comfortable on the bike, but off it as well. That's where the Blend 2 WP boots from TCX come into play. They have a stylish construction that would go well with most smart casual outfits and offer a good amount of protection to the heel and ankle. The shin protection is diluted to an extent as the boots aren't as tall as others on the list. They are however waterproof and their style quotient because of the leather texture is through the roof.
If you are looking to get into the TCX range, then you should be looking at the Hub Waterproof boots. They might not have the same style quotient as other daily use boots on the list and do not offer the same knee length protection as the considerably more expensive boots we have suggested above. However, the Hub Waterproof boots work well as an entry-level all-rounder because they offer waterproofing, and the microfiber construction is comfortable for daily use. On top of that, the out soles of these boots provide optimum traction on most kinds of terrains.