Do You Really Need Riding Boots?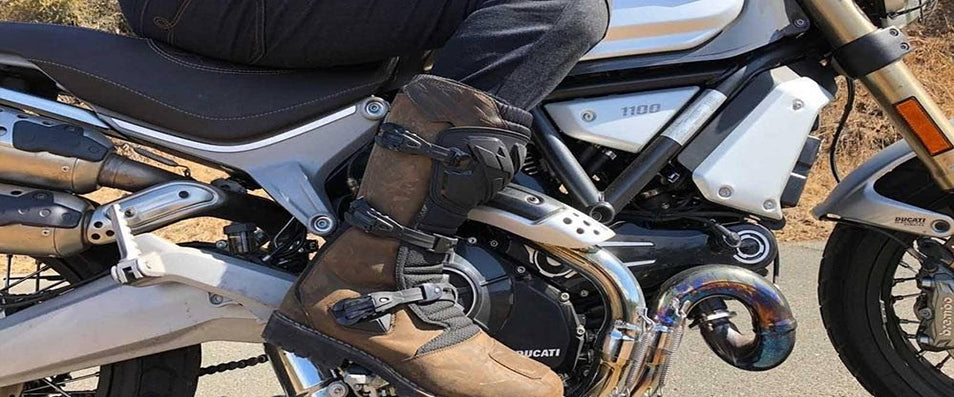 Riding boots can be cumbersome. They cost quite a bit, and aren't all that useful once you are off the motorcycle. What's more, they require a decent amount of effort to clean too. It's not like you can remove the armour and simply plonk them into the machine. So you see, it's not surprising when some people simply choose to replace their riding boots, with riding shoes, or even regular shoes! Let's take a look at the difference between the three and find out why riding boots are the best.
Regular shoes
Regular shoes that you wear on an everyday basis are the easiest fit for your feet. They will feel the most comfortable and also allow you the most range of motion. But you see, motion is the enemy here. While being able to move your feet in any way you desire might be a slight plus when you are riding, it is a big negative in the case of a crash. Movement in any direction will almost always lead to a serious injury to your foot. And we aren't talking about high speed crashes only. Falling off the motorcycle in slow moving city traffic also has the ability to damage your foot, especially if the motorcycle lands on top of it in a particular manner. What's more, regular shoes offer no kind of added impact protection, so even if you avoid bending your feet in the wrong fashion, the impact will most definitely hurt your foot.
Riding shoes
The next best thing to regular shoes is riding shoes. These look like regular shoes but are reinforced with armour and steel protection to shield the rider from impact injuries. They also restrict the lateral movement to an extent, without seriously hindering the ability of a rider to move their foot. So in terms of compromise, they are a middle ground between regular shoes with no protection and riding boots that hinder your feet's range of motion off the motorcycle. What riding shoes lack is shin protection and that is why they are ideally recommended for city usage, where the speeds are low and the chances of abrasion injuries are less. If you are looking for a pair of riding shoes to compliment your city riding, we suggest you take a look at the TCX Blaze boots or the TCX Roadster 2 Air Boots.
Riding boots
Riding boots are the best protection you can offer to your feet. They set themselves apart from their counterparts in two distinct ways. They inhibit the unnecessary motion of the feet and provide added protection to the shin. The first task is established by a seriously rigid construction that doesn't allow the boot to flex even under heavy pressure. This heavy construction also offers excellent abrasion resistance, keeping your feel safe even if you end us sliding on tarmac. The second task, that of protection to the shin, is achieved by a longer cuff that extends all the way up to your shin. And the rigidity of the construction once again means that even the meanest of knocks don't transfer to your shin. If you are looking to provide your feet with the ultimate riding protection, we suggest you take a look at the TCX SP-Master Boots or the Rev'it! Trail H2O Boots.
What should you be choosing?
If you are going to be riding in the city only, we suggest you take a look at riding shoes as they will keep you adequately protected and still offer some flexibility when you are off the motorcycle. However, if highway commutes are part of your riding plans, we suggest you get a nice pair of riding boots to keep your feet protected at all costs.
Also Read:
Tips for Buying the Right Riding Boots
Top Picks for Adventure and Touring Boots
Top picks of Track Boots this season
The Best Motorcycle Riding Boots in India